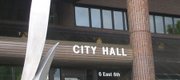 Subscribe to the email edition of Town Talk and we'll deliver you the latest city news and notes every weekday at noon.
News and notes from around town:
• Swing low, sweet chariot. Coming for to . . . Oh, pardon me. It is Black Friday and I'm just having a little wake for my bank account.
One group that is still in the mood to make a major purchase is the Bert Nash Community Mental Health Center. We reported back in July that the organization had signed an $825,000 contract to purchase the 13-acre Veterans of Foreign Wars property at 138 Alabama Street. Bert Nash was fairly quiet about its plans for the property when it confirmed the contract, but we speculated a bit that the site was meant to play a role in the vision John McGrew and his group Outside for a Better Inside has for an outdoor wellness center.
Well, now there are formal plans that confirm that. Bert Nash is seeking to rezone the 13-acre site to a hospital use. As part of the rezoning, the organization has submitted a "concept plan" that shows a 30,000-square-foot building for Bert Nash operations, plus a smaller building that would serve as a wellness center and a "Miracle Field," which is a baseball field specially designed for individuals with disabilities. The property already has a lake, a cabin, and some walking trails. It also is adjacent to Burcham Park, which is more open space that a wellness program could use.
The project would be a major one for Bert Nash. David Johnson, president and CEO for Bert Nash, estimated the entire venture likely would cost $6 million to $8 million to complete. But he stressed the non-profit organization doesn't have a firm timeline for the project to begin.
"I would say the actual development of the property is still a couple of years away," Johnson said.
Any plan moving forward also would likely include some partnerships with other organizations interested in the wellness center concept, and a capital campaign by Bert Nash.
The project comes at an interesting time, though. We recently reported that Bert Nash has lost about $1.5 million worth of funding over the last four years, and that it is projecting to operate at a $200,000 loss this year. Since the spring, the organization also has cut 12 full and part-time positions through attrition. It also is projecting a $90,000 deficit for 2012.
Bert Nash is planning to use the earnings from a $1 million memorial fund to cover the payments on the new property.
Johnson said Bert Nash leaders strongly believe that the current economic struggles shouldn't stop the organization from continuing to plan for the future.
"You can cover your head and let it beat you up, or you can invest in the future," Johnson said. "It is our plan that we will continue to meet our mission in the community."
Johnson also said he expects the expansion of the Medicaid program in 2014 — part of federal health care reform — will provide a boost to the organization. He said Bert Nash already treats many of the people who may become newly eligible under the Medicaid expansion, but the organization currently does so for free.
"The Medicaid expansion in 2014 will mean that a lot of the people we are providing services for free will have resources," Johnson said. "It should make a difference in being able to maintain our mission."
Johnson said he envisions any new Bert Nash offices built on the site would be in addition to the space the organization currently occupies in the Community Health Building at 200 Maine. The concept plan calls for an additional 30,000 square feet of office and clinical space, but Johnson said the concept plan is subject to major changes.
Planning commissioners and city commissioners ultimately will have to approve the rezoning and a specific development plan before the project can move forward. The Planning Commission is scheduled to hear the rezoning request at its January meeting.
As for the VFW operations, the club is still in operation at the location. Bert Nash has not yet closed on the property purchase — it is contingent upon the rezoning. Johnson said the VFW is looking for a new home, but he said Bert Nash has not given the club any deadline to vacate the premises.
"We're in no hurry for them to leave," Johnson said.
• Mark your calendars for tonight. Downtown Lawrence Inc. will host its annual Downtown Holiday Lighting Ceremony. Festivities will begin around 5:30 p.m. at Ninth and Massachusetts Street. Santa's arrival — historically he's had to be rescued off the roof of Weaver's — is expected to occur at 6 p.m. And in case you are wondering about downtown's other big holiday event, the Lawrence Old Fashioned Christmas Parade — an all horse-drawn parade — is set for 11 a.m. on Dec. 3.
• While we're on holiday events, I'm not sure what lays a candy cane, but the city is taking a page from the Easter Bunny's book and hosting a Candy Cane Hunt next week. The hunt will be from 4 p.m. to 6 p.m. on Dec. 3 at Holcom Park Recreation Center, 2700 W. 27th St. The event is open to children six years old and younger. It will include hot chocolate and cookies, and an appearance by guests from the North Pole. There is a $2 cost for children to attend. Pre-registration is required, and can be made at any Parks and Recreation center or by calling 832-7940.
Copyright 2018 The Lawrence Journal-World. All rights reserved. This material may not be published, broadcast, rewritten or redistributed. We strive to uphold our values for every story published.