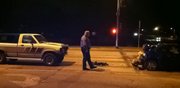 One person was taken to a Kansas City-area hospital by helicopter ambulance Friday night after a three-vehicle accident in the westbound lane of Clinton Parkway near Lawrence Avenue.
A 53-year-old Lawrence man was driving his 1994 Ford Ranger when he struck a vehicle driven by a 70-year-old Lawrence woman. She had been stopped at a red light.
The woman's 2004 Ford Focus was pushed into the back of a Nissan Quest minivan, which had been stopped in front of her at the light. The Nissan Quest was driven by a 49-year-old Lawrence man, and contained a 55-year-old female passenger.
Lawrence Police Sgt. Randy Roberts said the 70-year-old woman was flown by Life Star helicopter to a Kansas City-area hospital with head and chest trauma. She was listed in serious condition Friday night. The passenger in the Nissan Quest was taken to Lawrence Memorial Hospital with nonlife-threatening injuries.
The accident occurred at 9:06 p.m.
Check back to LJWorld.com for updates.
Copyright 2018 The Lawrence Journal-World. All rights reserved. This material may not be published, broadcast, rewritten or redistributed. We strive to uphold our values for every story published.