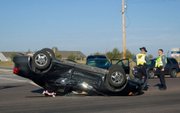 Tonganoxie — A two-vehicle accident on U.S. Highway 24-40 in Tonganoxie sent five people to Lawrence Memorial Hospital on Wednesday afternoon.
Jill Poje was attempting to drive her 2004 Pontiac Grand Prix across U.S. 24-40 from Stone Creek when her vehicle was struck by a 2008 Ford Focus driven by Raymond Woods. Woods was traveling westbound on U.S. 24-40 at the time of the accident and attempted to stop to avoid the Grand Prix, according to a statement from Tonganoxie Police Lt. Billy Adcox.
Poje's vehicle rolled onto its roof, and she and her two passengers, Bailey Poje and Blake Poje, were transported to Lawrence Memorial Hospital with minor injuries.
Woods and an unidentified female passenger were also transported to LMH with minor injuries. Woods was later treated and released, as was Poje and her passengers.
Tonganoxie police, the Kansas Highway Patrol, the Tonganoxie Fire Department and Leavenworth County Emergency Medical Services responded to the accident. As of about 3 p.m., traffic was moving in both directions on U.S. 24-40 in the area, though it was cut to one lane and moving slowly.
Copyright 2018 The Lawrence Journal-World. All rights reserved. This material may not be published, broadcast, rewritten or redistributed. We strive to uphold our values for every story published.