Downtown Lawrence is looking a bit more festive after receiving its annual holiday makeover this weekend.
Photo Gallery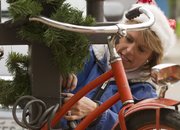 Just Food volunteers decorate downtown
Thirty volunteers working with Just Food Douglas County, a local food bank, hit the streets Sunday morning to hang green garland and red bows, decorating the 174 lampposts that line Massachusetts Street.
Downtown Lawrence Inc., representing a group of downtown businesses, donated $1,500 for the job. Just Food will use that money to provide 7,500 meals to people in Douglas County.
"Last year, we paid a private company," said Cathy Hamilton, director of DLI. "We'd much rather give money to a fabulous organization and take the money to directly feed people."
Volunteer Jessica Sayer, Lawrence, was bundled up as she helped unload bows from a truck. She said several of her co-workers from Peoples Bank also joined the effort.
"I'm always interested in helping Just Food," Sayer said.
Hamilton said Kansas University students and members of Leadership Lawrence volunteered as well.
Just Food and DLI are working together this holiday season to help meet the need of feeding local families. Their goal is to collect $5,000 through collection boxes at more than 30 downtown stores. Just Food will also collect canned food.
"It's huge to have the opportunity to do this and serve people in the community," said Jeremy Farmer, executive director of Just Food. "It would not be possible without Downtown Lawrence Inc."
Just Food has provided 291,000 meals in Douglas County this year, according to Farmer. Farmer said there's been about a 20 percent increase in people needing food assistance.
For Thanksgiving this year, Just Food is offering 550 boxed meals, which contain about 30 pounds of food each. Farmer said a Hy-Vee nutritionist helped pick foods to provide a healthy nutritional balance.
"We weren't originally doing 550, but we took a risk and trusted the money to fund the extra 220 would come in," Farmer said. "The community stepped up."
Hamilton said working with Just Food was another way to connect DLI with the community.
"It's a win for everybody," she said.
Copyright 2018 The Lawrence Journal-World. All rights reserved. This material may not be published, broadcast, rewritten or redistributed. We strive to uphold our values for every story published.