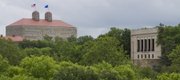 Subscribe to the email edition of Heard on the Hill and we'll deliver you the latest KU news and notes every weekday at noon.
Your daily dose of news, notes and links from around Kansas University.
• KU had some exciting news over the weekend as Kelsey Murrell, of Kearney, Mo., won the 26th Rhodes scholarship in the university's history.
Murrell is the first KU student to win a scholarship since 2004, when Ruth Anne French-Hodson received the award.
As I've written about previously, universities love to boast about how many of these scholarships their students have won (much to the consternation of the Rhodes folks).
Murrell joins a list of some pretty talented folks from some pretty good universities who won this year.
That list includes, by the way, the rather talented son of actress Mia Farrow and director Woody Allen.
• Universities all across the country will be watching the budget wrangling in Washington this week with interest.
Last week, at the Kansas Board of Regents meeting, Regent Kenny Wilk asked several university leaders what was worrying them.
Ed Hammond, who has served as president of Fort Hays State University since 1987, told Wilk that the discussions going on in Washington had the potential to significantly change the way higher education functions today.
He was particularly concerned with money available through Pell Grants and other student aid programs, and the amount of dollars available for research.
The implications on research, he said, have far greater potential to affect KU and Kansas State than they do his own university, which doesn't conduct nearly the amount of research that those two universities do.
I'll be watching, too, and it will be interesting to see what happens. I'll be sure to keep you updated.
• Here's some KU research that seems to confirm something I've always thought was true — buying something with a credit card feels a lot less painful than buying it with cash, according to this synopsis of the research from msnbc.com.
"Like a starry-eyed new lover who ignores the downsides of an obviously incompatible but very attractive partner, consumers who swipe plastic when they buy are often blinded to the true costs of their purchases," the article said. "They even tend to exaggerate the perceived benefits of whatever they're buying," according to research by Promothesh Chatterjee, a relatively new assistant professor in KU's School of Business (he just joined the faculty in fall 2010) and Randall L. Rose of the University of South Carolina.
Yeah, I don't think I'd know anything about that at all…
• There are no credit cards or cash required for the Heard on the Hill tip jar — I deal in information, and if you've got some, send it my way at ahyland@ljworld.com.
Copyright 2017 The Lawrence Journal-World. All rights reserved. This material may not be published, broadcast, rewritten or redistributed. We strive to uphold our values for every story published.