On the street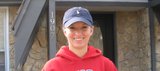 It's a good organization and the KU chapter makes it really easy to get involved — everything's online.
A group of 22 Kansas University students were "for hire" on Saturday. No, it's not what you may be thinking — some recent grads looking for company work.
Instead, this was a group of volunteers involved with Habitat for Humanity who participated in the annual event to lend out a few hours of yard work in exchange for donations to group's ongoing projects to help build better low-income housing.
Vicky Heather hired the Habitat kids to rake leaves around her west Lawrence home. She said the program helped everybody involved because she couldn't manage to complete the work by herself
"I thought that this would be a good way to help a cause, and I'm pretty proud of KU students volunteering their time like that," she said.
Joel Rosenberger, a KU freshman who volunteered his Saturday morning at Heather's house, said, too, that the "for-hire" model gave each party involved something in return and that he's excited to be a part of a build day on a Habitat house later this spring.
KU chapter president Brittany Krutty, a junior studying physics, said that the group works closely with the Lawrence Habitat for Humanity group to work toward the national organization's goal to "eliminate substandard housing."
The event raised about $1,150 in all, Krutty said Saturday evening.
She got involved with group, which has a lot of architecture majors but isn't exclusive to folks with construction experience or know-how, as a freshman because she needed community service hours as a scholarship requirement.
"But after that, I just fell in love with it," she said.
Copyright 2018 The Lawrence Journal-World. All rights reserved. This material may not be published, broadcast, rewritten or redistributed. We strive to uphold our values for every story published.