Topeka — From battles over pensions to political rights, a coalition of labor groups announced Friday that it has formed to oppose what it called anti-worker initiatives of Gov. Sam Brownback.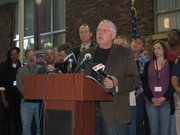 "We are fighting back," Terry Forsyth, president of the Working Kansas Alliance, said. He was flanked by more than 50 union members during a news conference held in conjunction with the Kansas AFL-CIO biennial convention.
Forsyth said he will oppose efforts by Brownback, a Republican, and many Republican legislators to start a 401 (k)-style plan for public employees. He said that doesn't fix the funding problem in the Kansas Public Employees Retirement System, which was caused by the state failing to contribute enough into the system.
He also predicted there will be a repeat of last session's fight over a bill to limit the rights of union members to participate in political campaigns. That bill passed in the House with only Republican votes and prompted a rare demonstration in the House gallery that resulted in union members being kicked out.
Brownback has said he is working on improving the state economy and bringing more jobs to Kansas. He is set to unveil new tax and school finance plans.
His spokeswoman, Sherriene Jones-Sontag, said, "Gov. Brownback's top priority is new, good-paying jobs. In the last decade, Kansas actually lost private sector jobs. We're starting to turn that around, but there's a lot of work to do. To grow Kansas, we need to control spending while reforming taxes and regulation. Clinging to outdated ways of doing things won't work and taxpayers can't afford it."
Forsyth also warned there will be an attempt in the 2012 legislative session, which starts in January, to do away with the state minimum wage law, which was increased in 2010 to match the federal minimum wage law and prior to that had been $2.65 an hour, the lowest state minimum wage in the country.
Forsyth said he hoped that labor's success earlier this month in overturning a law in Ohio that limited the bargaining rights of public-sector unions and a movement to recall Wisconsin Gov. Scott Walker signal that the public is getting unhappy with politicians with anti-labor agendas.
"As we saw in Ohio, initiatives that impede the ambitions of working people are rightfully viewed by voters as being too extreme. We believe Kansans will draw the same conclusions regarding the similar policies being pushed by the governor and members of the Kansas Legislature," he said.
Earlier this week, Walker canceled plans to attend a fundraiser in Wichita, which the Sedgwick County Republican Party said was also to feature Brownback. Labor groups claimed credit for the cancelation because they said they planned to bring thousands of workers to protest Walker's appearance in Kansas.
Forsyth said the Working Kansas Alliance would also oppose plans to push more of public school and social service funding onto local governments.
"This fight is not about political parties and labels. This fight is about what is right and what is wrong," he said.
Copyright 2018 The Lawrence Journal-World. All rights reserved. This material may not be published, broadcast, rewritten or redistributed. We strive to uphold our values for every story published.