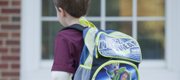 Subscribe to the email edition of First Bell and we'll deliver you the latest local education news and notes every weekday at noon.
Watching kids stack and unstack plastic cups for 30 minutes at a time — and seeing them scurry between stations, spin between rounds and restack to clean up — provides a clear vision of organized chaos.
And it's nice to know that the scene also helps youngsters with one of their most basic skills: reading.
"It has academic carryover because of the way you stack," said Jill Larson-Bradney, who teaches physical education at Lecompton Elementary School, where students lent their support to a record-seeking effort Thursday. "You start on one side. You stack the cups up all the way across, and then you go back to the beginning — like you do when you read. So we're promoting reading also."
Specifically, students who have difficulty crossing the midline of their body — think of someone twisting from left to right, but stopping in the middle — often have difficulty reading as well, Larson-Bradney said.
By stacking cups from three columns — one on each side, plus one in the middle — students focus on simple actions that cover a full range of motions and perspectives. Then, by arranging the cups back into vertical columns, they get a chance to start over, repeating the process over and over, mixing in different variations such as varied arrangements.
Kinda like reading a book.
"You start stacking on one side, you go across your stack, you go back to the beginning and you downstack," she said. "It's like you do when you read lines, when you go down a page."
I asked some students what they felt like they were learning as they stacked, unstacked, downstacked and handled any other stacking move they could come up with Thursday:
• Gabrielle "Gabby" Cummings, fourth-grader: "Sometimes you have to go slower, but sometimes you can go fast. And if you're right-handed you lead with your right hand, and if you're left-handed you lead with your left hand."
• Emily Hamm, fourth-grader: "You have to be moving fast and doing stuff fast."
• Hayden Robb, fourth-grader: "It helps with your schoolwork and stuff and my hand-eye coordination. And you have to concentrate."
I also asked a full-fledged grownup what she'd learned during her time stacking cups.
"That I'm old and slow," said Myra Mohr, a social worker for the Perry-Lecompton school district.
•••
Members of the women's basketball team at Kansas University are heading back to classes in elementary schools again this fall, part of an ongoing program backed by an NCAA grant.
CeCe Harper, a sophomore guard from San Antonio, Texas, spent much of her afternoon Thursday in a school library, where she answered questions and read stories to first- and third-graders.
Her appearance was part of the team's participation in Schools for Success, a program designed to boost awareness and attendance for KU women's basketball games. Each elementary school in the district is "adopted" by a player or member of the team's staff, who visit to promote the program, one that includes a friendly competition.
Here's how it works:
• Kansas Athletics Inc. provides admission cards to all elementary students in the district.
• Beginning in January, students will be able to use the cards for free admittance to any women's home basketball game at Allen Fieldhouse.
• The school that finishes the season with the highest rate of attendance will receive $2,500 for the school; the second-place finisher will receive $1,500 and the third-place school will get $1,000.
"In addition," the department says, "the winning schools will receive an all-school assembly with student-athletes, spirit squad and mascots."
Last year, Pinckney School won and received $5,000. Schwegler School finished second, with $3,000, and Hillcrest School took third and $2,000.
•••
The Central and East Lawrence Elementary School Consolidation Working Group meets again at 7 p.m. Monday at district headquarters, 110 McDonald Drive.
The meeting will be the sixth working session for group members, who are charged with recommending a plan for reducing the number of district elementary schools through consolidation. The Lawrence school board's instructions call for going from a list of six schools — Cordley, Hillcrest, Kennedy, New York, Pinckney and Sunset Hill — to four within two to three years.
After Monday, the group has five more scheduled meetings: Dec. 5 and 19, and Jan. 2, 16 and 30.
The working group's meeting agenda likely will be posted online sometime Friday. You can follow the group's agendas and review its meeting minutes and backup materials on the group's dedicated page at the district's website, USD497.org.
Copyright 2018 The Lawrence Journal-World. All rights reserved. This material may not be published, broadcast, rewritten or redistributed. We strive to uphold our values for every story published.