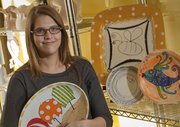 It's that time of year: the beginning of the holiday season. As its kickoff of the festivities, the city's Parks and Recreation Department is hosting its annual Holiday Bazaar craft fair from 10 a.m. to 5 p.m. on Sunday at the Community Building, 115 W. 11th St.
Duane Peterson, special events coordinator for the department, said the event will be "a fun way for residents to start their holiday shopping."
It features only handmade items — from pottery to jewelry to sewn gifts and decorations — from local artists and crafters.
It's JoAnn Clouse's first Holiday Bazaar as an exhibitor and she's excited to show off — and, she hopes, sell — her fabric nursery decorations and pillows that feature colorful and cute zoo animals.
Clouse said she expects the event has a good turnout. She attended last year as a visitor and "could hardly walk around" because of the bustle of crafters and consumers.
Peterson said the event is "sold out on space" with 130 exhibitors set to show their wares. This is the 35th year of the event, and last year it saw nearly 4,000 visitors, he said.
Local artist and Kansas University student Breanna Haller is looking forward to the bazaar as a way to introduce the community to her relatively new business, Bee Creative Studio, 1410 Kasold Drive, that she opened with her mom in June.
The event is free and open to the public and will also feature Keys of Joy providing tunes on electric keyboards to get into the spirit of the season.
Copyright 2018 The Lawrence Journal-World. All rights reserved. This material may not be published, broadcast, rewritten or redistributed. We strive to uphold our values for every story published.