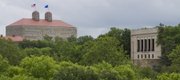 Subscribe to the email edition of Heard on the Hill and we'll deliver you the latest KU news and notes every weekday at noon.
Your daily dose of news, notes and links from around Kansas University.
• A KU Medical Center administrator will be leaving the school to serve as the executive director of the Washington, D.C., based Patient Centered Primary Care Collaborative.
Marcia Nielsen had been serving as associate dean for health policy after working as vice chancellor for public affairs at KUMC.
"I am a very passionate advocate for primary care and prevention and this position will provide me with an exciting opportunity to support US health system transformation at a national level," Nielsen said in an email to friends and colleagues.
Nielsen, a former executive director of the Kansas Health Policy Authority, said she would maintain an adjunct faculty role at KUMC, and will maintain her residence in Lawrence.
• Here's a bit of additional information on my story that ran Thursday about the Bible housed at Baker University that made its way onto the cover of National Geographic for a story on the 400th anniversary of the King James Bible.
The photographer who took the picture, Jim Richardson, is hosting a photo gallery featuring 30 prints — both published and unpublished — from the story.
But you'll have to drive to Lindsborg to see it.
The exhibit will be open from 10 a.m. to 5 p.m. Monday through Saturday and 11:30 a.m. to 4 p.m. on Sunday at Richardson's Small World Gallery, 127 N. Main St. in Lindsborg.
"In a story where I often negotiated access to faraway people and artifacts, it was a pleasure to work with a world-class Bible collection and the Baker University professionals who were only a couple of hours' drive from my home," Richardson said in a written statement.
• I also heard word yesterday that 10 KU students would be performing some five- to eight-minute acts in the inaugural edition of "KU's Got Talent," sponsored by Student Union Activities.
The show is scheduled for 7 p.m. today in the Kansas Union Ballroom.
The 10 performances include: Lauren Jackson, Down with Gravity, Ja'Ron Nichols, Cynthia Brown, Elaina Smith, Tyron (Tylee) Smith, Shawn Nelson, KU Jeeva, Genuine Imitation and Rayyan & Nadia.
The judges for the competition will be John Staniunas, chairman of KU's theater department; Precious Porras, assistant director of the Sabatini Multicultural Resource Center; and Mark Ferrell, director of KU Opera and coach-accompanist in KU's division of voice and opera.
Judges and audience members will vote for the winners.
The event is free to attend for students and members of the public.
• I spent the night in Lindsborg once. It was a lovely place, and while I don't necessarily need a Dala horse, I'd love it if the city's residents would send me a tip for Heard on the Hill to ahyland@ljworld.com.
Copyright 2017 The Lawrence Journal-World. All rights reserved. This material may not be published, broadcast, rewritten or redistributed. We strive to uphold our values for every story published.