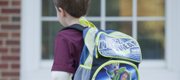 Subscribe to the email edition of First Bell and we'll deliver you the latest local education news and notes every weekday at noon.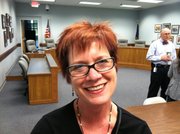 Helping a teacher by filling Friday Folders or laminating bulletin-board displays or handling other tasks inside or outside the classroom sure can make a difference.
No matter how large or small, says Deena Burnett, now in her 31st year of teaching and this year's president of the Lawrence Education Association.
"Don't ever underestimate the contributions you can make," Burnett said, during a reception at Wednesday's Friends of Education celebration at district headquarters, 110 McDonald Drive. "Even if a volunteer only does one little niche sort of activity, it can be a huge load off a teacher's to-do list."
The honors came during American Education Week, a national event that spurred another teacher — Paddy Eger, from the state of Washington, to offer five tips for parents and others looking to most effectively volunteer in a school.
Eger's advice, which recently arrived via email:
• If you have questions for the teacher: Schedule a meeting that's not at a time when students are in the classroom. Do not expect to meet with the teacher unannounced for "just a minute." Also, if the teacher provides materials for an activity, don't expect him or her to walk you through it. Take time to read the directions and gather supplies days before your classroom visit.
• Establish a consistent meeting place: If your group will meet regularly, ask the teacher before your first visit to help you establish a place that you can use every time you visit. Nothing kills an activity faster than spending valuable time looking for a place to work.
• Choose your seat wisely: Don't sit at one end of a rectangular table. Sitting in the middle seat along one side allows you to see all of the students and reach out to touch their work. It also makes you part of the group, and allows you to speak in a softer voice. For round tables, sit so you — not the students — face nearby tables or other distractions.
• To help children become active listeners, don't repeat questions: If the student says he doesn't understand the question, ask him to repeat what he thinks he heard. If the student is still confused, ask another student to rephrase the question. Once again, ask the first student to repeat what he just heard.
• Be prepared for a change in plans: Have a "pocket activity" ready in case a schedule change means you'll have less time with the children. This is a simple game, such as a math or spelling game, or a book or news article that can be started or stopped at any time without losing its value.
Burnett, who teaches language arts at West Middle School, said she would agree with all five of those suggestions. But she stands by her most basic advice for volunteers: Even 15 minutes a week can pay off in a big way for a teacher and, by extension, the students in a particular class.
"Don't underestimate the value of hat," she said.
•••
Wednesday's Friends of Education event included plenty of smiles, handshakes, hugs and other forms of celebration.
And one case of hidden identification.
The person chosen as the Friend of Education from Woodlawn School was identified simply as "Mrs. Anonymous."
Here's the description included in the event program:
"The Friend that we have chosen to honor this year is so humble she wishes not to be named. She has assisted in some capacity at Woodlawn for more than 20 years, and has ties with our school from the time her children attended Woodlawn. She is at school at the break of dawn, making sure each student gets a great start at breakfast. She gathers a pile of staff 'wish list' tasks to complete, stays until those tasks are completed and then returns at the end of the day to make sure every student is safely on their way home. Our Friend is the epitome of Woodlawn's motto this year, 'Our Best — No Less. What's Next?' "
I asked Principal Jeanne Fridell to divulge her friend's secret identity, but she wouldn't go for it. Fridell said that Mrs. Anonymous steadfastly refused to be honored, no matter what the principal or the rest of the school's staff had to say.
"She said, 'No, no, no. It's my honor to serve you,' " Fridell recalled the school's friend saying.
Too bad the rest of the school isn't playing along.
Expect Mrs. Anonymous to receive about 300 thank-you cards today — one from every student at Woodlawn, plus some from teachers and other staffers who appreciate all the help.
"She does it out of the goodness of her heart," Fridell said. "We truly appreciate it."
•••
Rick Doll, superintendent of the Lawrence school district, is accepting nominations for an award to be given this academic year to a teacher dedicated to helping kids who need it most.
The Dedication to Education Award carries a $5,000 prize, given to an educator who is:
• A certified teacher or paraeducator.
• A current district employee.
• Supporting the district's goal of "Learning for all" by doing "whatever it takes" to ensure that challenged and/or disadvantaged students learn.
• Dedicated to the success of every student.
Letters of nomination may be submitted by colleagues, parents, students, alumni or community members up until 4:30 p.m. Nov. 30, when nominations are due in the communications office at district headquarters, 110 McDonald Drive. Self nominations are not eligible.
The winner will be chosen by Doll, with input from Susan Esau, executive director of the Lawrence Schools Foundation.
Last year's winner: Charlie Lauts, of Lawrence High School. The first Dedication to Education Award was presented in 2007.
Donors supporting the award are children of community members — again, anonymous — who created the Lawrence Schools Foundation's "Bobs Award," a $10,000 award given annually to an outstanding educator.
Copyright 2018 The Lawrence Journal-World. All rights reserved. This material may not be published, broadcast, rewritten or redistributed. We strive to uphold our values for every story published.