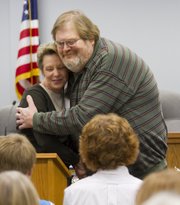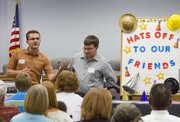 Registered nurse John Drees continues to find new ways to teach healthy messages, provide career lessons and offer teacher instruction to students, educators and administrators throughout the Lawrence school district.
And everyone, it seems, is listening.
"He has the X-factor," said Jane Rock, who teaches health sciences at Free State High School. "He has this ability to connect with the audience, and that's what makes him special. He knows how to meet the audience's needs. He can bring it to the third-grade level and can crank it up a notch for the middle school and the high school levels. Not everyone can do that.
"And as a teacher, that's what I appreciate."
And that's why Rock presented Drees, who works at Lawrence Memorial Hospital, as the districtwide Friend of Education during a ceremony Wednesday evening at district headquarters, 110 McDonald Drive. The annual event allows the district to honor a volunteer from each school and program building.
More than 200 people attended the two-part ceremony, which included a reception featuring music from Lawrence High School's Chamber Orchestra.
Mark Bradford, president of the Lawrence school board, said that volunteers provided invaluable service in a district committed to providing all students with a quality education.
"It takes all of us to achieve that goal," he said, thanking honorees and their supporters.
Drees, as a community education specialist at the hospital, has been key in helping create a "career pathway" for students interested in health sciences and has connected with more than 2,500 freshman through his matter-of-fact presentation, "One Night in the ER," depicting the dangers of underage drinking and other risky behaviors.
He also organizes Kansas Kids Fitness Day for third-graders, as his education-oriented efforts continue to expand and reach broader audiences.
"I'm just lucky to be able to do that," Drees said.
Others recognized Wednesday as the district's 2011 Friends of Education, listed by school:
• Adult Education Center: Khitam Al-Kofahi, a former student who has spent more than a year volunteering as a mentor in the center's English as a Second Language classroom.
• Broken Arrow: Dana Landes, described as a "go-to parent volunteer" at the school, where she volunteers in classrooms, organizes Friday Folders, participates in field trips, coordinates class parties, helps with fundraising events, organizes book fairs, prepares food for staff members and serves on the PTA's board.
• Community Connections Center/C-Tran: Sue Shackelford, who helps young adults in the sewing club once a week.
• Cordley: Alee Phillips, for six years a volunteer helping in classrooms, organizing dinner for teachers during conferences, providing weekly clerical assistance and serving as an "official laminator" at Cordley, running the equipment correctly so that it doesn't jam or break.
• Deerfield: Julie Neff, described as a "constant presence" for the past nine years, tackling tasks large and small, from bringing a covered dish for meals during parent/teacher conferences to organizing a garden cleanup.
• Free State High: Jesse Nussbaum, a weekly mentor in the Interpersonal Skills Program, a peer adult role model in the Functional Skills Program and a mentor for young adult transition groups; he's also a manager for the soccer program and helps in the Social Awareness Pen Pal Mentor Program.
• Kennedy: Dawn Shew, an advocate for the Kennedy community who has inspired an increase in parent involvement, improved communication between the PTO and school staff, and serves on the Central and East Lawrence Elementary School Consolidation Working Group.
• Hillcrest: Brandy Brandt, instrumental in starting the school's Hawkathon Club, active in PTO and regarded as a lead parent volunteer for providing classroom extras, from healthy snacks for a holiday party to incentives for a reading contest or simply an extra set of hands.
• Langston Hughes: Lisa Pazdernik, helper with landscaping, feeder of staff and sewer of 40 skirts for the most recent fifth-grade musical, "The Music Man."
• Lawrence High: Mark Edwards, Doug Gaston and Judy Keller, leaders of LHS Building on Traditions, which generated donations to enhance the scoreboard and ticket stands at the school's athletics complex; they also have played hosts for team dinners and have volunteered at Project Graduation and after-prom events.
• Liberty Memorial Central Middle: Linda Cottin, who has helped plan, organize volunteers and gather supplies for the school's garden project, which her business has supported with donations of money and services.
• New York: Annette "Grandma" Ritchie, who regularly handles clerical tasks, works one-on-one with students, photographs student projects and assists with field trips; she also made hand-stitched pillows recently for each kindergarten student.
• Pinckney: Ursula Minor, "the Craft Lady" who brings her own supplies to help students learn math concepts while making necklaces or wristbands.
• Prairie Park: Nondie Hanna, who landscapes, laminates, copies, cuts, pastes, organizes, bakes and handles other volunteer responsibilities, at all grade levels.
• Quail Run: Arthur "Mr. Art" Reyes, whose daily visits to school, all day every day, have provided thousands of hours' worth of cutting, pasting, laminating, scoring, leading of small groups and working with technology at the school.
• Schwegler: Jane Tusten, who taught for 35 years in the Lawrence school district — including 28 at Schwegler — now volunteers at the school as a retiree.
• South Middle: Jessie Brinson, who regularly visits with students during lunch, empowering them to develop their own strengths, beliefs and personal attributes.
• Southwest Middle: Dennis Christilles, a professor of theater design at Kansas University who has helped Southwest students and staffers with lighting and sets, and has recommended improvements for the school's theater.
• Sunflower: Piper Njoroge, co-president of the PTO and helper with everything from book fairs and the school carnival to field trips and classroom parties.; she also supports another volunteer, a young adult with cerebral palsy, who reads stories to first-grade classes.
• Sunset Hill: Faye Hale, a daily presence at school as she tends to flowers, organizes Marathon Club and serves as PTO president.
• West Middle: Sherri Dedloff, who has reinvigorated Parents of West Warhawks; helped lead and organize fundraisers, book fairs, carnivals and staff recognitions; and helped chaperone dances, serve food and set up for special events.
• Woodlawn: "Mrs. Anonymous," a woman who has spent more than 20 years volunteering at the school, from helping with breakfast at the break of dawn to tackling a pile of tasks on the staff's "wish list" to seeing that all kids have a safe way home at day's end.
Copyright 2018 The Lawrence Journal-World. All rights reserved. This material may not be published, broadcast, rewritten or redistributed. We strive to uphold our values for every story published.