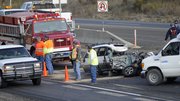 A 26-year-old Lawrence man died Wednesday afternoon after his eastbound car traveled the wrong way into the westbound lanes and struck a semitrailer east of Lawrence on the Kansas Turnpike in Leavenworth County.
Kansas Highway Patrol Capt. Joe Bott said the man was driving his car at 1:45 p.m. near the Lawrence Service Center about three miles east of Lawrence. He suddenly crossed from the eastbound lanes of Interstate 70 into the westbound lanes. He crossed in the area just east of the service center before the median wall begins dividing both directions of travel.
The man's car eventually struck the side of a semitrailer. No other injuries were reported.
The Kansas Highway Patrol was still investigating the crash and working to notify family members at 10 p.m. Wednesday before releasing any further details about the crash or the identity of the man. Westbound traffic in the area was reduced to one lane around the crash scene until about 9:30 p.m.
Copyright 2018 The Lawrence Journal-World. All rights reserved. This material may not be published, broadcast, rewritten or redistributed. We strive to uphold our values for every story published.