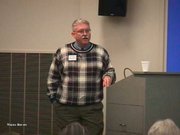 Amid last week's media frenzy over Penn State's child sex abuse scandal, Wayne Bowers was reminded of a not-too-dissimilar incident that happened at Kansas University decades earlier.
In 1972, Bowers, who at the time was a 26-year-old assistant sports information director for the KU athletic department, was convicted of enticing a minor.
"It's certainly been on my mind the past week," Bowers said in a telephone interview on Monday.
At 66, Bowers is retired, lives in Oklahoma and takes care of his aging mother. He has spent much of the past 20 years advocating for the treatment of sex offenders. He's headed two national groups, Sex Offenders Restored through Treatment and Sex Abuse Treatment Alliance. In that role, he has spoken at many conferences and frequently been interviewed by national news media.
"I'm proud of where I am today. But I'm very sorry about what happened there," Bowers said of his conviction in Lawrence.
In 1969, with KU's football team fresh off an Orange Bowl appearance, Bowers had a big break when he landed the newly created position of assistant sports information director at KU. A few years later he was about to get another big opportunity, the chance to provide color commentary on KU's radio network for an upcoming game.
Before coming to Lawrence, Bowers had sought therapy for his inappropriate behavior with young boys. In Lawrence, he said, he would cruise an area seeking out young boys. A couple of times he had invited boys up to KU's football stadium press box, where he said inappropriate activity took place.
Right before the weekend that Bowers was supposed to go on air, he was arrested on his way back from the press box. KU quickly released him from his job, and Bowers eventually pleaded guilty to a charge of enticing a minor. He served 20 months in prison. As Bowers remembers it, the crime didn't receive much — if any — media attention and was not discussed openly by KU.
"There was much less scrutiny, much less sentencing; everything was different," he said of the time period.
Eleven years later, Bowers was caught again. This time the arrest made headlines; he owned a newspaper in Hesston and was active in coaching youth sports. He also knew the boys that he abused. He was convicted of indecent liberties with a child and sentenced to five years.
Before that sentencing, Bowers traveled to Baltimore to be treated by Fred Berlin, the founder of the Johns Hopkins Sexual Disorders Clinic. While the therapy he received during his prison term for the Lawrence crime had done little to help, at Johns Hopkins it was like a "second education," he said. He better understood pedophilia and the trauma it caused victims.
"It was a new life for me, facing up to really who I am and how do I deal with that," he said.
He was in therapy for 13 years and has spent the years following his treatment helping other sex offenders receive help. Bowers said he doesn't have an answer when people ask him how he knows he won't offend again.

"The thing I can answer, I know the boundaries I must keep. I know the triggers I have to stay away from, I know the places I can be at and not be at," he said. "As long as I do all those things, follow all those things, I guarantee you I am safe today."
The incident at Penn State, Bowers said, should be used as a teaching tool, one that gets athletic departments, schools and other youth organizations talking. Jerry Sandusky, the former assistant Penn State football coach accused of sexually abusing eight victims, showed that sex offenders are more than "dirty old men in a trench coat," Bowers said. They are coaches, teachers, religious leaders and law enforcement officers. And, most of all, they are not strangers.
"There were clues in my life that, had people been aware of it, they might have talked about it," Bowers said.
Copyright 2017 The Lawrence Journal-World. All rights reserved. This material may not be published, broadcast, rewritten or redistributed. We strive to uphold our values for every story published.