Your daily dose of news, notes and links from around Kansas University.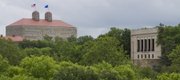 Subscribe to the email edition of Heard on the Hill and we'll deliver you the latest KU news and notes every weekday at noon.
• On Tuesday, the University of Central Florida's Institute for Diversity and Ethics in Sport released its annual survey of the 120 schools in the Football Bowl Subdivision.
They're interested in the diversity of leadership positions at these schools.
KU continues to be the only FBS school with a black woman as president or chancellor. In fact, only two other FBS schools employ women who are minorities in their CEO position — France A. Cordova at Purdue (who happens to be stepping down) and Renu Khator at the University of Houston.
And KU (at least for the moment) is one of 17 FBS schools to employ a black head football coach. The report indicated that the 19 black men who were employed at the beginning of the academic year as head football coaches was a new record.
Still, all 11 FBS conference commissioners are white men, and 94.4 percent of faculty athletics representatives are white, while 33.6 percent are women.
The report, available here, has a lot of other interesting data, too.
• Rob Kaplan, a KU School of Business alumnus, will be back in town next week. He is a Harvard MBA graduate and a former vice chairman of the Goldman Sachs Group.
He will be speaking at the Dole Institute at 7:30 p.m. Nov. 17 and intends to discuss the fundamentals of successful leadership.
The talk will focus on his book, "What to Ask the Person in the Mirror: Critical Questions for Becoming a More Effective Leader and Reaching Your Potential."
A book signing will follow the event.
• KU's Bioscience & Technology Business Center, which features lab and office business incubator space, now has a new system vice president and executive director at its KU Medical Center facility.
Frank Kruse will be the new man in charge over there, and he comes to the post after serving as the manager of global business development for DeLaval Manufacturing, a global dairy producer.
The BTBC now has three locations — its main facility at 2029 Becker Drive, the Expansion Facility at 4950 Research Parkway and the KUMC location at 2002 W. 39th Ave. in Kansas City, Kan.
The main facility is 66 percent full, the expansion facility is 33 percent full, and the KUMC facility is 53 percent full so far. All together, the centers have 74 employees so far.
• Sometimes I think my desk is a sort of incubator space for clutter. You're welcome to add to my mental clutter by sending me a tip for Heard on the Hill to ahyland@ljworld.com.
Copyright 2018 The Lawrence Journal-World. All rights reserved. This material may not be published, broadcast, rewritten or redistributed. We strive to uphold our values for every story published.