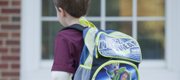 Subscribe to the email edition of First Bell and we'll deliver you the latest local education news and notes every weekday at noon.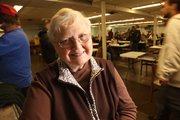 With her years of dedication to LINK and a food pantry and the Helping Hands Closet and church ministries, there's no doubt Katie Studebaker has earned the 2011 Service to Mankind Award, to be presented next week by the Sertoma Club of Lawrence.
She's certainly a unique soul.
There aren't many folks who could show up for work at 7 a.m. and hit the phones the way she did, as she served as coordinator of substitute teachers for the Lawrence school district.
"Some days I'd make 80, 90 calls," said Studebaker, who was in charge of lining up classroom subs from 1987 until she retired in 2000. "You'd go in early and just look at each one (request) individually. Do one at a time and not get stressed out.
"Somehow, it worked."
The district's automated phone system, of course, hadn't arrived arrive until 1994, meaning that Studebaker had precious little time to let her fingers do the walking.
"I just went down the list, one by one," Studebaker recalled, of the early days. "Otherwise it was crazy."
•••
Supporters of the Lawrence High School Marching Lions are conducting a multifamily garage sale Saturday, with proceeds to go toward helping send band members to Florida in March for the Disney Music Festival.
The garage sale is set for 8 a.m. to 4 p.m. Saturday in Buildings 1 and 2 at the Douglas County Fairgrounds, 2110 Harper St.
The event will include a bake sale, a silent auction and other items.
•••
Also Saturday, Kansas Athletics Inc. is looking to boost attendance at Memorial Stadium by offering free tickets to elementary school staff, students and families.
It's not a total free ride, however. Two free tickets are available with the purchase of at least one ticket for $10.
To take advantage of the offer, follow this link to the tickets site for Kansas Athletics, and enter the code LPSBU6.
Kickoff for the game against Baylor is set for 1 p.m.
Copyright 2018 The Lawrence Journal-World. All rights reserved. This material may not be published, broadcast, rewritten or redistributed. We strive to uphold our values for every story published.