Your daily dose of news, notes and links from around Kansas University.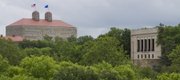 Subscribe to the email edition of Heard on the Hill and we'll deliver you the latest KU news and notes every weekday at noon.
• I received some additional details surrounding KU's ongoing efforts to improve Internet speeds in its residential housing.
This story of mine from last week some background on the issue for you, in case you're not up on the issue.
Late last week, I heard word that Apogee had raised its speeds again for its baseline level of service. Apogee, the company with which KU contracts, had initially offered service at one megabit per second and then took that to two megabits per second after hearing complaints about downloading speeds.
They've now apparently raised the baseline speed to eight megabits per second at the baseline level, and to 10 and 15 megabits per second at other levels of service at no additional cost.
So, I guess my question for users is — is this any better? Do you notice a difference?
• Anne Buford's new film "ELEVATE," (in all capital letters, I guess) is a documentary that follows four boys from Senegal and their journey from the Sports for Education and Economic Development school in Dakar, Senegal to the United States, where they hope to play basketball.
Buford is a Kansas University alumna and sister of the NBA's San Antonio Spurs general manager R.C. Buford, another KU alumnus who was also in the news this week for reasons that were somewhat less pleasant.
Follow the link to the story up there for a preview of the film.
• Nona Golledge, KU's director of dining services, made it into this Los Angeles Times story about how college campuses across the country are upgrading their food options as part of the "foodie" trend.
The paper called her up because she's currently serving as the president of the National Association of College & University Food Services.
She told the newspaper many schools are upgrading their ambience and menus to get more of a restaurant feel and experience for the students.
Here at KU, that elicits thoughts of the Impromptu Café in the Kansas Union, but it's interesting to see that other schools (detailed in the article) have taken this to a whole other level. I'd be interested to know what sorts of options you'd like to see here, if you'd care to share them with me.
• Time again to break out the KU directory and point to a random person and ask nicely for a tip for Heard on the Hill. The last person I did this with let me down, breaking a streak of at least three or four in a row. So let's have it, Mary Jo Reiff, associate professor of English. Tell me something I don't already know at ahyland@ljworld.com.
Copyright 2018 The Lawrence Journal-World. All rights reserved. This material may not be published, broadcast, rewritten or redistributed. We strive to uphold our values for every story published.