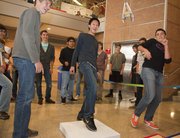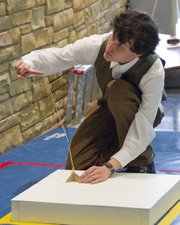 You'd think lining up more than 250 students on 41 teams from 19 different high schools for a competition on a college campus would be all about winning.
Try again.
Considering the varied devices flying, scooting and bouncing around the lobby inside Kansas University's Eaton Hall on Tuesday, students found themselves focusing more on surviving, stretching and adapting to the rules assigned as part of "Rock, Hop, Jayhawk," this year's theme for the School of Engineering's High School Design Competition.
Budding engineers simply needed to make a self-propelled device that could move in three different directions: horizontal, vertical and at an angle. The farther a device went, the better the score.
But three guys on a team from the Engineering Club at Free State High School considered themselves winners for simply making it through the contest unscathed. Their device — two planks of clear pine connected by a door hinge, with surgical tubes providing elasticity for power — managed to jump up only two of eight steps, creep only six feet across the floor and climb all of four feet up a wall.
Their lone success would come through improvisation, relying on time-tested redundancy after their tubing had detached from nails on the board during their first competitive shot.
"Duct tape is always good to have," said Ruben Ghijsen, a senior who hopes to study mechanical or civil engineering at KU.
"We brought it just in case," said Richard Lu, a junior who plans to pursue mechanical or aerospace engineering. "That's the fail-safe."
Antonio Schoneich, a junior mulling aerospace engineering, noted that the tape also addressed liability concerns. They used it to cover up some sharp nailheads that had pierced through the boards.
"It's so we don't get hurt," he said.
A five-member team from Lawrence High also had its focus on adjustments, with theirs coming through timely adaptation.
The students from Lions 4 had spent their design work studying other teams' devices before settling on an ultralight approach: Take a thin, carbon-fiber rod 12.75 inches long, add fins cut from chipboard and affix a single long rubberband to make it go.
After blunting the tip with a drop of hot glue — yes, for safety — the team's entry spent much of the competition at the top of the leaderboard. The device had soared to the eighth of eight steps and had slid 23 feet, 7 inches across a mat taped off like a javelin field.
It almost never happened. Earlier Tuesday, the team had faced potential disqualification after other teams had asserted the Lions 4 had created a slingshot, but the crafty Lions — seniors Alesia Herd, Kayla Hicks, Ashleigh Lawson, Isaac Rinke and Kailey Wingert — persevered.
Not only had they expected the challenge, but the team members quickly dismissed it by logically making their ready-made case to the judges.
"It's just bending the rules enough to not break them," said Alesia Herd, a senior interested in engineering.
There might have been a touch of good-natured jealousy out there, too, from others in Charlie Lauts' classes who coulda, shoulda, woulda.
"We had watched a lot of other people failing," said Kayla Hicks, a senior who looks to study environmental engineering. "We just decided to take their ideas and make it better."
The lessons learned Tuesday and in the weeks of preparation leading up to the competition will undoubtedly prove valuable for the participants, as they pursue their interests in college and beyond, said Stuart Bell, KU dean of engineering.
"They have a great time working together in teams, and that really teaches them team skills," Bell said. "It's not just about your idea, how to do it. It's about all of our ideas, because each one of us brings some strength to it.
"And they learn how to have a good time. If there's nothing else for them to understand, it's that engineering can be a great time."
Copyright 2018 The Lawrence Journal-World. All rights reserved. This material may not be published, broadcast, rewritten or redistributed. We strive to uphold our values for every story published.