Your daily dose of news, notes and links from around Kansas University.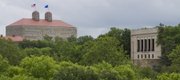 Subscribe to the email edition of Heard on the Hill and we'll deliver you the latest KU news and notes every weekday at noon.
• As KU apparently needs to Change for Excellence and go Far Above before it can fully Boldly Aspire, this morning, you'll be able to find me hanging around the Kansas Union, stopping by various town hall meetings associated with the Huron Consulting group.
They're the ones who have identified some potential areas where KU can save some money and increase its overall efficiency.
You should be able to check back later today for another update on what's going on.
But for now, KU has identified the areas where it intends to implement the "business cases" suggested by the Huron folks. There's more information here, but we should be seeing some new plans in the following areas: the budgeting process, campus construction, creation of business centers, domestic and international enrollment management, facilities maintenance and upkeep, human resources, information technology and procurement.
I'm going to be spending the day looking further into some of these, but if there's something that concerns you, feel free to let me know at ahyland@ljworld.com.
As an aside, I noticed that the libraries were one area where KU decided not to pursue Huron's recommendations. I know some history professors who will be relieved about that particular choice.
In a message from the chancellor, she said that most business cases will be implemented by 2014.
• Joshua Rosenbloom, the interim dean of graduate studies, is the fourth and last finalist for the permanent position.
He joins the three finalists I reported on last week — Arvin Agah in the engineering school, Thomas W. Heilke of the political science department and James Lichtenberg in the education school.
Rosenbloom is scheduled for an interview this week.
• If you're a student and have a beef with some kind of draconian rule, just remember it could be worse.
In case you missed it, colleague Sarah St. John unearthed this nice tidbit involving a number of women from the university getting in trouble for going on dates on weeknights 100 years ago.
"Awful!!!!!" wrote the Journal-World at the time. (As St. John said, that may have been a sort of tongue-in-cheek indication that the newspaper wasn't quite as serious about the violation as the university group).
• I'm trying to think of the story that would necessitate my using five exclamation points. I can't think of anything that it could be, but I'm hoping its your tip for Heard on the Hill that you'll be sending to ahyland@ljworld.com.
Copyright 2018 The Lawrence Journal-World. All rights reserved. This material may not be published, broadcast, rewritten or redistributed. We strive to uphold our values for every story published.