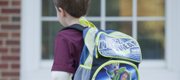 Subscribe to the email edition of First Bell and we'll deliver you the latest local education news and notes every weekday at noon.
Parents upset with use of standards-based grading for sixth-graders are taking their dissatisfaction to the Internet.
A trio of parents with students at Southwest Middle School have launched an online petition, gathering digital signatures from others throughout the Lawrence school district who want the district to "abandon" standards-based grading for the new middle-schoolers and instead "return to the "percentage-based, averaged grading system" still used for students in seventh through 12th grades.
Standards-based grades — marks tied to state standards for each subject, plus "learner behaviors" such as being prepared for class and turning in assignments on time — have been since 2003 in elementary schools, which up until last year had included sixth-graders.
Now sixth-graders are sharing a building, and some classes, with seventh- and eighth-graders.
"They keep saying: 'This is the way it was in elementary school,' " says Megan King, a petition organizers who has a son in sixth grade at Southwest. "The fact of the matter is they are not in elementary school anymore. They are dealing with seven different teachers and seven different classes. That can be confusing for a child."
King and others, through the petition, argue that the district's Skyward computer system no longer serves as an effective communications tool, "since it doesn't identify daily assignments, tests or quizzes" or if such work is late or missing.
"We need to be able to guide them through their assignments," King says. "If we can't see what they're working on, we're blind."
The petition maintains that there should be a single grading system for all students in middle school, and that the system should be traditional letter grades: A, B, C, D and F. Sixth-graders, like last year, still receive letter grades, but they come along with standards-based marks: E (excels beyond expectations), S (successfully meets standards), M (making progress) and T (targeted for growth).
King and others have assembled twice at district headquarters to address members of the Lawrence school board, with parents stepping to the microphone three minutes at a time to voice their concerns. Among them:
• Teachers don't have enough time to properly issue such grades.
• Standards-based marks do not offer proper motivation for kids, especially those who could strive to go from a B to an A.
• Issuing two sets of grades is confusing, both for parents and students.
Parents also fear that the district eventually could drop letter grades for standards-based marks in seventh and eighth grades, something the parents say could keep students from learning valuable lessons in reality: In high school you get an A, B or C in each class, and those transitional letter grades count on your college transcript.
"We just feel like it's a disservice," King says.
The district plans two informational discussions later this month, to address questions and concerns regarding standards-based grading. The discussions, "Grading for Learning," are organized to provide the same information and follow the same format both nights: 7 p.m. to 8:30 p.m. Nov. 29 at Southwest, 2511 Inverness; and Nov. 30 at Liberty Memorial Central Middle School, 1400 Mass.
For more information about standards-based grading, the district encourages parents and others to review the Parent's Guide to Standards-Based Reporting. Rick Doll, district superintendent, also has written a letter outlining his support for such grading.
•••
Members of the Central and East Lawrence Elementary School Consolidation Working Group can expect to receive pages upon pages of district demographic data for review tonight.
Robert Schwarz, CEO for RSP & Associates, is compiling data regarding where students live, and then tying that to information about students' economic, racial and programmatic situations.
Members of the working group, tasked with recommending how to close either two or three schools through consolidation during the next two or three years, have requested such information in recent weeks. The district then hired RSP to help compile the data.
Schwarz said that the firm's initial round of compilations would be finalized today.
The working group meets at 7 tonight at district headquarters, 110 McDonald Drive.
Copyright 2018 The Lawrence Journal-World. All rights reserved. This material may not be published, broadcast, rewritten or redistributed. We strive to uphold our values for every story published.