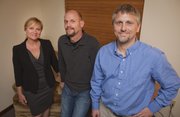 Veterans Day events
A variety of Veterans Day speeches, ceremonies and other community events are planned for the this week at Kansas University, in Lawrence and across the region.
Here's a compilation of some of them:
Kansas University
The KU Collegiate Veterans Association is sponsoring a week of events.
Monday
• 11 a.m. to 2 p.m., Ask a Vet — Wescoe Beach, where veterans will be available to answer questions from the public.
• Brown bag sessions at the Jayhawk Room in the Kansas Union designed to help veterans get connected with various services, featuring Scott Hoy of Kansas Works from noon to 1 p.m., Dan Parker of the Veterans of Foreign Wars from noon to 2 p.m., T.J. McGuire of the Kansas Commission on Veterans Affairs from 1 p.m. to 2 p.m. and Laura Snow of the Topeka VA Hospital from 2 p.m. to 3 p.m.
Tuesday
• 11 a.m. to 2 p.m., Ask a Vet — Wescoe Beach
• Brown bag sessions at the McCook Room in the Burge Union, featuring Mary Ann Rasnak of KU's Academic Achievement and Access Center from 11 a.m. to noon, Bruce Oakley of the Topeka VA Hospital from noon to 1 p.m., Claude Guidry from the U.S. Department of Veterans Affairs from 1 p.m. to 2 p.m. and Matthew Fowler of the Kansas Commission on Veterans Affairs from 2 p.m. to 4 p.m.
Wednesday
• 11 a.m. to 2 p.m., Ask a Vet — Wescoe Beach
Thursday
• 11 a.m. to 2 p.m., Ask a Vet — Wescoe Beach
• 10:30 a.m. to noon., United States Marine Corps 236th birthday cake-cutting at the Dole Institute of Politics.
Friday
• 11 a.m. to 2 p.m., Ask a Vet — Wescoe Beach
• 3 p.m., Walking tour of KU war memorials, featuring presentations from family members of KU veterans who died in service to the country. Tour begins at the Campanile.
• 4:15 p.m., Army ROTC retreat ceremony, Strong Hall.
• 4:30 p.m., U.S. Army Brig. Gen. Victor Braden speaks, 130 Budig Hall. Braden is the assistant division commander of the 35th Infantry Division headquartered at Fort Leavenworth.
• 7 p.m., Air Force ROTC memorial vigil at the campus war memorials.
Sunday
• 8:30 a.m., 5K run, meet at the parking lot next to the Burge Union. The route for the run will run past the various KU war memorials on Memorial Drive.
• 6 p.m., Dole Institute's annual Salute to Veterans, featuring a USO-style entertainment with live World War II-era entertainment by the Moonlight Serenade Orchestra. RSVP is required by Monday by calling 785-864-4900 or by emailing doleinstitute@ku.edu.
Lawrence
• The Veterans of Foreign Wars and the American Legion will host a combined Veterans Day ceremony at 11 a.m. Friday at the VFW Post No. 852 building, 138 Ala. The event will feature an opening prayer, a speaker from the Command and General Staff College at Fort Leavenworth and a rifle salute to veterans, said Ed Mount, commander of American Legion Post 14.
Haskell Indian Nations University
• The Haskell Indian Nations University Color Guard will host a Veterans Day Traditional Powwow at Haskell's Coffin Sports Complex from 3 p.m. to 5 p.m. Friday. Gourd Session will be from 3 p.m. to 5 p.m. with a special Veterans Honoring at 5:30 p.m. with the playing of taps, a special Honor Song and a 21-gun salute. The Grand Entry will begin at 6 p.m.
Leavenworth
• Leavenworth will host its annual Veterans Day parade at 10:30 a.m. Friday in downtown historic Leavenworth. The theme this year will be "America — Thanks to Veterans." Retired U.S. Army Brig. Gen. Stanley F. Cherrie will serve as the parade's grand marshal.
In their work during more than a decade representing and helping veterans across the country in disability-benefits cases, Virginia Girard-Brady, Preston Girard and Rod Ratzlaff noticed some things slipping through the cracks.
Often as they seek a resolution in a benefits case, veterans need help with certain day-to-day expenses. Or when they return, veterans and their families have trouble navigating the Veterans Affairs system to find out just what assistance is available to them.
"We realized there were a lot of unmet needs and services, especially in educating veterans and some social services benefits," said Girard, a veterans claims agent who has assisted his sister, owner of her law practice, ABS Legal Advocates, in Lawrence.
In late 2009, they, along with Ratzlaff, the practice's manager, founded a nonprofit organization, The Alliance for Veterans and their Families Inc., to try to branch out and help veterans in more areas.
"There have always been a lot of issues that we've seen that we really couldn't do a lot about as a private law firm," said Girard-Brady, who started the law firm in 2000.
Now they are hoping to ramp up fundraising and services for the nonprofit, known as Kansas AVF, with an emphasis on helping veterans and their families in Douglas County and some of the surrounding area.
Girard, who is the AVF's board president, said there will be a major push to notify veterans through seminars about what benefits are available to them and how they can go about obtaining them. The seminars will also focus on career and financial planning. Nationally the unemployment rate for veterans is typically a couple of points higher than current national rate of 9 percent.
"Our most valuable contribution would be to get them this information in a way that would be meaningful for them and make a difference for them," he said. "Our goal is to help veterans and their families adjust and prosper in post-military life."
He said that with more and more younger veterans returning from Iraq and Afghanistan, the VA will likely be dealing with thousands of new cases of post-traumatic stress disorder and other medical and psychological issues, and the AVF also wants help connecting veterans and their families with affordable counseling and medical assistance available to them.
"It's going to be tough," Girard said. "We're all going to have to step up."
Another major goal is to establish an emergency fund to help certain veterans with needs such as stable housing, rent and utilities costs and transportation needs, Girard-Brady said.
They have established the Don Brim Emergency Relief Fund, named after one of their clients, a Vietnam veteran who was homeless for 10 years during a fight to obtain benefits. Brim was awarded full benefits in 2006 but died in 2009 from cancer.
Now Girard said they want the emergency relief fund to be available to help veterans in similar situations, and AVF leaders also want to be able to help steer veterans to other social service agencies in Lawrence and Douglas County that can help them.
They also have established a scholarship fund that would benefit veterans who need money to supplement their GI Bill funds.
The funds will be featured at a fundraiser open to the public at 5 p.m. today at Abe and Jake's Landing, 8 E. Sixth St. Several bands will perform, including Big Brutus, which includes three Army National Guard members who served in Iraq.
"It's creating awareness that this type of group is here in Lawrence, serving the needs immediately of more local veterans," said Aaron Hale, a band member and AVF board member who was in a convoy that was attacked in Iraq.
Girard said there's a $5 suggestion donation for the event.
More information is also available at avfinc.org or at the Alliance for Veterans and Their Families Facebook page. The AVF is also seeking grant funds, and the law firm provides in-kind donations of office space and equipment.
Girard said the organization wants to work to fill gaps for veterans and their families in any way they can.
"Often they come back from battle," he said, "and then they have a new kind of battle."
Copyright 2018 The Lawrence Journal-World. All rights reserved. This material may not be published, broadcast, rewritten or redistributed. We strive to uphold our values for every story published.