Photo Gallery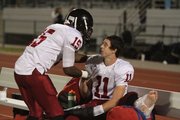 LHS vs. Olathe South
Olathe — Lawrence High's football team had a surprise sub off the bench in a first-round playoff showdown with Olathe South on Friday night, but that wasn't enough to keep the Lions alive in the postseason.
LHS put junior quarterback Brad Strauss back on the field for the first time since his Oct. 21 left ankle injury, and although he helped drive the Lions down the field for a touchdown on his first series, the Falcons bottled up the Lawrence offense for the remainder of the night and advanced to the Class 6A state quarterfinals with a 37-14 victory.
It only took O-South (9-1) eight plays to take a lead, and with LHS in an early 7-0 hole, coach Dirk Wedd sent junior Tyrone Jenkins onto the field as the team's starting quarterback. Jenkins busted a 32-yard run on Lawrence's first play from scrimmage, but when the Lions had to punt four plays later — after junior Drake Hofer and Jenkins split snaps at QB — Wedd decided to go with Plan B.
"We wanted to see if we could have some success without (Strauss)," the coach said.
It certainly appeared as though they would have success with him. Strauss came into the game and led Lawrence (6-4) on an 18-play, 80-yard drive that reached the end zone when the QB hit senior wide receiver Garrett Cleavinger on a timing pattern. Strauss stood in the pocket and zipped a 17-yard touchdown throw to a diving Cleavinger in the back-left corner of the end zone.
At that point, it looked like Lawrence might have caught O-South off guard, and an Anthony Rosen extra point tied the game at 7 in the first minute of the second quarter.
Said Strauss: "We were moving the ball well, and everything was going good."
It wouldn't last, though. It didn't take the Falcons long to notice Strauss was staying in the pocket and not running like he did when he was healthy.
The Lions knew going into the game, Wedd said, that their QB would be limited.
"He can't move," Wedd said.
Still, Strauss had been cleared to play by his doctor, and after getting the OK from his parents, nothing was going to keep him off the field.
"This is the biggest game I've ever played in, and I really wanted to be out there," he said.
On the Lions' next two possessions, O-South started bringing extra blitzers, and as Strauss stood, immobile, in the pocket, he began to take some hits.
As his coach said: "He had a target on his back. They knew where he was."
Lawrence punted without picking up a first down on consecutive series. Strauss said he had to make himself stay in the pocket as he faced pressure.
"I really didn't have much mobility," he said. "There were times I wanted to, instinctively, to take off and run, but couldn't."
In the meantime, Lawrence wasn't having any luck stopping the O-South offense. By the Lions' fifth possession, they were already down 25-7. The Falcons were moving the ball with ease, getting touchdown of 30-plus yards out of running backs Fritz Wilbur and Matt Elliott. And when they weren't eating up chunks of yards on the ground, senior running back Jordan Ward (107 rushing yards) was.
With LHS trailing by 18 entering the third quarter, Strauss and the Lions had to get something going to stay in the game. However, three plays into the second half, Strauss' left ankle was banged up as he completed a pass. With 10:22 to go in the third, he was helped off the field. He wouldn't return.
"That was really tough," Strauss said after the season-ending loss. "I really wanted to stay out there with my teammates."
Without their go-to guy, Lawrence used Jenkins and Hofer at QB for the remainder of the game. Jenkins finished with 68 rushing yards, and Hofer ran for 42, but neither could get much of a passing game going in a situation in which LHS had to score points in a hurry.
O-South scored a TD on six of its first seven possessions before Lawrence finally forced a punt. It came with less than eight minutes remaining and the Falcons' backups on the field.
After that, Hofer and Jenkins did most of the damage on an 86-yard TD drive capped with a four-yard run by Isaiah Ross.
With that, what Wedd described as a trying season came to an end.
"I don't think any football team in the state of Kansas went through what we went through, adversity-wise," he said, referring to the team's laundry list of injuries that seemed to grow throughout the year.
Before getting on the bus for a long ride back to Lawrence, senior receiver Anthony Buffalomeat, who led the team with nine catches and 84 receiving yards, summed up the night.
"It hurts," he said. "It's my last game with those guys, and I'll never forget this."
Strauss, who completed 17 of 22 passes in limited action, agreed.
"Obviously, right now we're not feeling too good," he said. "Maybe in a few days. We had a really successful season overcoming a lot of adversity."
According to Wedd, the team showed a lot of character, even though the season didn't end how the Lions had hoped.
"They're just a very special group of kids that made Lawrence High proud of them," he said.
LHS vs. Olathe South Box score
LHS OSHS
First downs 14 13
Rushes-yards 34-145 37-293
Passing yards 128 145
Total offense 273 438
Return yards 82 41
Fumbles-lost 1-0 1-1
Penalties-yards 3-20 4-34
Score by quarters
Lawrence 0 7 0 7 — 14
Olathe South 7 18 6 6 — 37
Individual statistics
Rushing
LHS: Tyrone Jenkins 17-68, Drake Hofer 10-42, Isaiah Ross, 4-24, Erick Mayo 2-16, Brad Strauss 1-minus-5.
OSHS: Jordan Ward 16-107, Teddy Colbert 6-68, Fritz Wilbur 6-67, Matt Elliott 3-40, Frankie Seurer 1-16, Russell White 1-3, Billy Hampton 1-minus-3, Dominic Barbosa 3-minus-5.
Passing
LHS: Brad Strauss 17-22-113, Drake Hofer 2-3-11 interception, Anthony Buffalomeat 1-1-4.
OSHS: Frankie Seurer 7-8-145.
Receiving
LHS: Anthony Buffalomeat 9-84, Tyrone Jenkins 8-36, Garrett Cleavinger 2-30, Erick Mayo 3-12.
OSHS: Matt Elliott 4-133, Jordan Ward 1-22, Drew Johnson 1-21, Fritz Wilbur 1-4.
How they scored
First quarter
8:39 — Fritz Wilbur four run. Mike Butler kick. (O-South 7, Lawrence 0.)
Second quarter
11:12 — Garrett Cleavinger 17 pass from Brad Strauss. Anthony Rosen kick. (O-South 7, Lawrence 7.)
8:10 — Wilbur 33 run. Butler kick failed. (O-South 13, Lawrence 7.)
6:25 — Matt Elliott 36 pass from Frankie Seurer. Conversion failed. (O-South 19, Lawrence 7.)
1:30 — Elliott 31 run. Butler kick failed. (O-South 25, Lawrence 7.)
Third quarter
8:22 — Drew Johnson 21 pass from Seurer. Butler kick failed. (O-South 31, Lawrence 7.)
Fourth quarter
11:55 — Jordan Ward 24 run. Butler kick failed. (O-South 37, Lawrence 7.)
1:11 — Isaiah Ross 4 run. Rosen kick. (O-South 37, Lawrence 14.)
Copyright 2018 The Lawrence Journal-World. All rights reserved. This material may not be published, broadcast, rewritten or redistributed. We strive to uphold our values for every story published.