Photo Gallery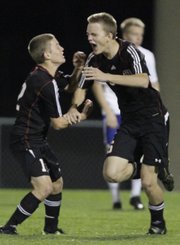 LHS soccer vs. Olathe South
Olathe — It took a few minutes for Lawrence High's boys soccer team to find its bearings Tuesday night.
The Lions would love to have that time back.
Olathe South scored twice in the first six minutes and held on for a 2-1 victory in a Class 6A state quarterfinal at Olathe District Activity Center, ending Lawrence's season.
Falcons senior defender Adrian Thomas fed junior Bryan Johnson in the box, and the forward won a one-on-one battle with LHS senior goalkeeper Tanner Click to give O-South a one-goal advantage just 86 seconds into the match.
A little more than four minutes later, the Falcons (16-3-1) scored what proved to be the deciding goal when senior forward Nate Opperman made an assertive push from the left wing and found senior midfielder Drew Nick, who slipped the ball inside the left post and over a diving Click.
Lawrence coach Mike Murphy said it is rare to see any team score so quickly on Click, let alone twice in six minutes.
"We were just a little discombobulated back there," Murphy said of the defense in the opening minutes.
"Both times they had guys winning a one-on-one battle on the outside, and they were just in the right spot to touch it in," the coach added.
LHS (8-8-3) might have had miscues that allowed O-South to capitalize, but Murphy gave the Falcons their due.
"They did their job," he said, "and we weren't quite up to speed with them yet."
To the Lions' credit, they didn't fold after getting in a discouraging hole. Lawrence junior forward Luke Matthews made the most of an open look on the left side and drilled a goal in the 15th minute, shooting it to the right of Falcons goalkeeper Nick Riggle.
Matthews said the Lions were determined to put up a fight.
"We couldn't be left out of the game, because we came this far," he said.
That seemed to give LHS some much-needed momentum, which continued in the 28th minute, when Click thwarted Johnson on an attack by flying forward through the air to punch away a shot.
After O-South maintained its one-goal advantage through the first half, neither team could get any offense going in the first 25 minutes of the second half. Of course, with the Falcons holding a lead, they were clearing the ball on defense pretty quickly, and not as interested in setting up a counter as advancing to the state semifinals.
With scoring windows almost nonexistent, Lawrence only created two shot attempts in the first 35 minutes of the second half. The shots from Gavin Fischer and Justin Riley both missed high and wide.
"We were only down a goal, so we didn't need to rush anything," Murphy said.
However, the coach thought Lawrence's midfield might have been waiting for too perfect a ball and not taken as many chances as it could have.
After a brief flurry of scoring attempts by O-South, all of which were stymied by Click, who finished with six saves in his LHS finale, Lawrence took one last desperation shot in the 75th minute. A high kick directly into the wind by Riley held up in the air as Fischer crashed in, but the ball finally dropped into the hands of Riggle.
After the match, Murphy consoled his Lions and said that the nerves that come with playing on such a stage as the state quarterfinals might have led to the team's slow start.
"Those types of things happen, but I have no regrets. We came back and played well and had opportunities," he said. "These guys, they played their guts out tonight. I'm very proud of them."
The loss was particularly difficult for the LHS seniors. Although the likes of Click and defender Tanner Williams made the tight one-goal match possible with their efforts, the seniors weren't interested in moral victories.
Senior defender Noel Fisher said the whole team was torn up with the season-ending loss, but down the road he thought that would change.
"It's a class that'll be remembered years from now," Fisher said, with tears in his eyes. "Everyone will be proud of everything we've done this season."
His coach agreed and said Lawrence's strong senior class of Click, Williams, Fisher, Nicholas Haig, Zachary Wustefeld, Adrian Rivera, Chandler Thomann, Robbie Andrews and Donald Harris set the tone for the future of the program.
"We needed one group of guys to step up and show what Lawrence High soccer could be all about," Murphy said, "and these guys did that."
Copyright 2018 The Lawrence Journal-World. All rights reserved. This material may not be published, broadcast, rewritten or redistributed. We strive to uphold our values for every story published.