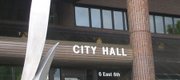 Subscribe to the email edition of Town Talk and we'll deliver you the latest city news and notes every weekday at noon.
News and notes from around town:
• A pair of city leaders will be in Boulder, Colo., this week learning how to improve town-gown relations here in Lawrence. City Manager David Corliss and City Commissioner Hugh Carter are attending a four-day conference hosted by the International Town & Gown Association. The conference, perhaps not surprisingly, will have several sessions related to student drinking and ways to improve student behavior in neighborhoods. Programs from University of California-Berkeley, Washington University, St. Cloud State University, the University of Florida and several others will be examined. But alcohol is not the only drug that will get discussed at the conference. Prescription drug addictions will be the topic of several sessions. It appears several university communities are reporting that to be a significant problem with their student populations. As one workshop title says, these days "A is for Adderall."
Other themes from the conference include:
Sustainability: The city of Boulder and the University of Colorado will present several seminars about how they've partnered to increase recycling in student neighborhoods. Plus, there will be discussion about how to increase bike usage and curtail auto usage in university towns.
Economic Development: University and city types will discuss what role universities ought to play in economic development. Should they play a "passive and supportive" role or should they be the leading organization in economic development activities? The conference also will look at some partnerships between cities and universities, including a unique one between Lewisburg, Pa., and Bucknell University that resulted in a public-private mixed use downtown development. Bucknell. Great — another lesson from Bucknell.
Diversity and inclusivity: The University of Colorado will present a seminar on its "Gender Justice Commission." Several other cities and universities also will present information on programs they have to boost diversity and to encourage more meaningful civic engagement from both the student and nonstudent populations.
• City leaders haven't gone to a lot of out-of-state conferences over the last few years, but I wouldn't be surprised to see that change some. City Commissioner Bob Schumm mentioned during the campaign that he thought the city was doing a disservice to itself by not attending conferences put on by the National League of Cities and other such organizations. Schumm said he understood such an expense may not win a lot of smiles from the public, but he said that when he was previously on the commission he found the conferences were a great place to come up with new ideas that could be applied in Lawrence. The National League of Cities Conference will be in sunny Phoenix in November. I think it would be a disservice not to cover it.
• In today's Journal-World there was an Associated Press article about how Kansas has won an award from the Brady Campaign to Prevent Gun Violence for passing one of the "Craziest Gun Laws" of the past year. The group claims that a change to HB 2339 now allows people with a concealed carry permit to bring their handguns into K-12 schools, if the schools don't post the no guns sign. A spokesman with the Kansas Attorney General's office, however, said the bill — which is a broad one that covers many other topics besides concealed carry legislation — only clarifies, but does not change, existing law governing concealed weapons, the Wichita Eagle reported.
I've reported on concealed carry laws in the state for a number of years now, ever since I did a series detailing the process I went through to get my concealed carry permit. Based on a quick reading of HB 2339, I would agree that the provision related to guns in schools hasn't changed much. Now, mind you, I'm not commenting on whether it is crazy or not, but it is not new. In 2008, we reported on a 2007 Kansas law change that removed schools, churches, libraries and several other places from the list of locations that automatically were banned places for concealed carry license holders to carry into. The 2007 law change required those places to post a no gun sign on their buildings if they wanted to prohibit license holders from carrying into a facility. (Now, I've been told that there are federal laws that apply to carrying a gun into a public school regardless of whether the school is posted or not. Bottom line: I wouldn't recommend it.) Regardless, the loosening of Kansas law happened quite awhile ago.

So, I am surprised that the Brady group has called attention to this law change and hasn't commented much on past law changes in the state. Here's a list of concealed carry law changes that we've reported on over the past several years that I thought would have raised the eyebrows of concealed carry opponents.
In 2008, we reported on a law change that allows concealed carry permit holders to carry their weapons into bars, unless the bars post a no gun sign. Prior to the law change, bars and drinking establishments were automatically prohibited places for license holders to carry. What made the change even more interesting is that it occurred in 2007, but most bar owners had no idea the change had been made. That means for a year bar owners unknowingly were allowing people to legally carry guns into their establishment. When I started calling bar owners to notify them about the change, I got one of my favorite quotes I've been able to use in a story. "You're (expletive) me," Rick Renfro, owner of Johnny's Tavern told me. Bar owners know now, but look around town and see how many bars have a no guns sign. Many really don't like the idea of posting the sign because they fear it gives the place a bad image. Perhaps the situation has changed since the last time I looked, but I think you will find that it is pretty easy in many Lawrence bars to have a cold one in one hand and a hot one in your pocket.
In 2010, we reported on changes to the state's concealed carry law that no longer require license holders to submit to a Breathalyzer test when a law enforcement officer has reason to believe the license holder is intoxicated. (Well, unless they've actually shot someone.) Previously, if a concealed carry license holder refused to take a Breathalyzer test, they automatically lost their license for three years. Also, the law change who could get a concealed carry license. Previously, if an individual had two misdemeanor DUI convictions in the past five years, they were ineligible for a concealed carry permit. Now, they can be issued a permit. Others that can now be issued a permit due to the law changes include: people with misdemeanor drug convictions; people who have been convicted of carrying under the influence in another state; people who have been declared in contempt of court for child support proceedings; individuals who have attempted suicide in the past five years.
In February, we reported that changes to the concealed carry law call into question whether that state has any authority to deny a license based on a person being physically unable to handle a firearm in a safe manner. For instance, the previous law had a clause that required applicants to swear that they do not "suffer from a physical infirmity which prevents the safe handling of a weapon." That language now has been stricken from the law. I wrote an article that questioned whether a blind person could receive a permit under the state's law. People criticized me for bringing it up, asking why a blind person would want to have a concealed carry permit. That wasn't the point. The point was that the state is giving you a license to do something that you otherwise couldn't legally do. Does the state make any effort to ensure that you have at least some basic competency to handle a firearm? I asked the question about a blind person because it was the wildest scenario I could think of. I ended up getting the answer that I suspected. The state can't point to any language that would stop them from issuing a license (a renewal, read the article for the full details) to a person who is blind. The Attorney General's office said it was going to investigate the matter further. All this has given me a good opportunity to check back in with them.
Copyright 2018 The Lawrence Journal-World. All rights reserved. This material may not be published, broadcast, rewritten or redistributed. We strive to uphold our values for every story published.