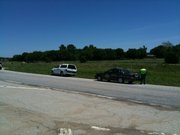 A woman died after being struck by a piece of metal that fell from an oncoming vehicle Tuesday afternoon on the South Lawrence Trafficway north of Clinton Parkway, Douglas County Sheriff's officials said.
Undersheriff Steve Hornberger said officers believed the metal object fell from an eastbound pickup truck hauling a trailer, struck the windshield of a northbound white pickup truck and injured the woman who was a passenger. She later died.
Later Tuesday, investigators were still looking for the eastbound pickup truck, and Hornberger said it was described as a dark-colored pickup truck that was pulling a 16-foot-long flatbed trailer carrying a large piece of equipment, possibly an old tractor.
The South Lawrence Trafficway was still closed as of 3 p.m. and traffic was being diverted off the highway and back on using the ramps at Clinton Parkway, according to the Kansas Department of Transportation.
Hornberger called the driver a "person of interest" who might have information regarding the accident.
"It's very possible they are not even aware that this piece of metal came from their pickup truck or trailer," the undersheriff said.
The accident occurred at 12:15 p.m., and Hornberger encouraged anyone who was in the area around noon or later who might have any information about the crash to call the sheriff's office at 785-843-0250, 785-841-0007 or Douglas County Crime Stoppers at 785-843-TIPS.
"We are actively looking for the other vehicle," the undersheriff said.
According to a photo from the scene of the white pickup truck, the metal object apparently punctured a hole in the windshield on the passenger side.
Hornberger said officers were working to notify family members out of state before releasing the name or further details about the woman.
He said he was not aware of any other injuries associated with the crash.
Check back with LJWorld.com for updates.
Copyright 2018 The Lawrence Journal-World. All rights reserved. This material may not be published, broadcast, rewritten or redistributed. We strive to uphold our values for every story published.