Photo Gallery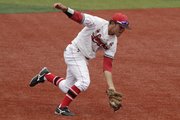 2011 6A state baseball: Lawrence High
Losing always stinks, but it tends to hurt a little more when everything you've done for the past 36 weeks was done to prevent it.
Such was the case for the Lawrence High baseball team at the Class 6A state tournament on Saturday. After countless comeback victories, throngs of thrilling moments and a season's worth of scrapping for everything they got, the Lions' luck ran out when seventh-seeded Blue Valley West knocked them out of the running for a state title with a 3-2 victory at Kansas University's Hoglund Ballpark.
"That's why it takes you a couple days to get over it," LHS coach Brad Stoll said. "You invest so much in these kids and this program. If you just rolled the balls out there on March 1 and said, 'Play ball,' then it'd be easy. But it's not. It hurts."
LHS didn't go quietly. If anything, it was starting quietly that cost the Lions. But you can't blame them for refusing to panic after recording just two hits through the first five innings and watching BV West build a 3-0 lead.
In the sixth, the Lions sent seven batters to the plate and scored two runs, the first by Troy Willoughby on a wild pitch and the second by Corbin Francisco on an RBI single from Trent Sheppard. While the LHS hitters were doing their best to kickstart a comeback, senior pitcher Jake Johnson, who relieved starter Garrett Cleavinger in the fifth, kept the Lions close. It's no coincidence that the LHS pitching and hitting clicked at the same time.
"I was just trying to hook the team back up," Johnson said of his role in the semifinal loss. "It started to work toward the sixth and seventh inning, but we just have to do it the whole game."
Really, it started months ago when this team first got together for offseason workouts and dreamed of Saturday. Even after taking their lumps during an early-season trip to Oklahoma, the Lions visualized finishing the season at state with a chance to be crowned kings of the diamond. They had that.
"I know everyone worked hard this offseason," Johnson said. 'It was 15 degrees out there, and everyone was working, breaking a sweat when it was impossible to sweat. I think if we would've worked just a little bit harder, we would've been in the title game."
That's not lip service. It's just what the Lions believe.
"Coach Stoll and the rest of the coaches prepare us well," Sheppard said. "They'll do anything for us, and that makes us different than the rest of the teams."
Saturday marked the final day of high school baseball for the six seniors on Lawrence's postseason roster. But that means 12 members of that roster will be back next year. Because this taste will taint their minds for the next several months, there's really no reason to ask what comes next.
"We've gotta get back to work, work harder and come back next year and win a state title," sophomore infielder Shane Willoughby said.
Added Johnson, addressing the underclassmen: "Just don't take anything for granted. Work as hard as you can, and it'll pay off in the end like it did for us this year. We were the underdogs in the tournament. Nobody expected us to come this far, and we kept fighting back.
"That's just what Lawrence High's all about. We haven't given up on anything this year. We've always fought back. I guess that just runs in all of us."
Copyright 2018 The Lawrence Journal-World. All rights reserved. This material may not be published, broadcast, rewritten or redistributed. We strive to uphold our values for every story published.