Photo Gallery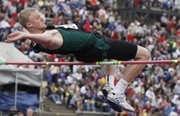 2011 6A state track: Free State
Wichita — The races were over, the times were fast, and all that was left for the Free State High girls track and field team to do was wait for the good news.
After a break for dinner and a bit more waiting for the final events of the state track and field championships to conclude, the Firebirds finally were able to celebrate.
Paced by seven medals, the FSHS girls finished third (54 points) at the Class 6A state championships on Saturday at Wichita State University's Cessna Stadium — the highest finish in school history.
Olathe East (66 points) took first, and Shawnee Mission West was second with 58 points.

"We're all really excited," FSHS junior Lynn Robinson said. "Any place is exciting. Today was great."
Freshman Alexa Harmon-Thomas earned three medals Saturday: first in the 300 hurdles (44.86) and second-place finishes in the long jump (18 feet, 31⁄2 inches) and 100 hurdles (14.60).
"I don't know if I'm used to it yet," Harmon-Thomas said after winning her fourth medal in her first appearance at state. "But it's a great feeling to have."
Of the three, her performance in the long jump was the biggest surprise. After scratching on her first attempt and coming up well short on her second in the preliminaries, Harmon-Thomas needed a solid third jump just to reach the finals.
But as she sprinted down the runway, she neared the board ready to make her jump, but was leading with her wrong foot — her right foot. No problem.
Harmon-Thomas was shattered her own personal-best distance with a leap of 18-31⁄2. It nearly held up through the finals, too, but was finally topped by Blue Valley West's Alyssa Kelly — who hit 18-33⁄4 on her final jump.
"I didn't want to bail out," said Harmon-Thomas, who recently switched from jumping off her right foot to her left. "I thought it was a decent jump, but I didn't think it was as good as it was."
The girls 4x800 relay team survived an early scare to take third place at 9:48.56.
Bailey Sullivan, a freshman running the leadoff leg, was tangled up in the pack right after the gun and had the baton knocked loose accidentally. By the time she found it and resumed running, she was dead last.
Aside from the minor slip-up, Sullivan ran a fantastic split to get the baton to Hayley Francis around fifth place.
Francis did her part and was followed strong by Rachel Schaffer, who ran a personal-best split, and Robinson closed it out.
"I didn't even know we dropped it until we walked up to the awards, and she was crying, apologizing to us," Robinson said. "That would explain why she was last (at the start). I didn't know (at the time) if it was just stress or anything else.
"But that was really impressive that she could run like that with that start."
A short while later, Robinson took fifth in the 1,600 (5:24.24), and then, exhausted after two taxing races, trotted out with Sullivan to compete in the 800.
Robinson was nearly gassed after the first lap, but somehow found the strength to keep her legs churning and take fourth (2:22.66). Sullivan also reached the podium with a seventh-place finish at 2:22.93.
"At the end of that first lap, there were so many girls passing me … I couldn't even count, but I had to be in last," Robinson said. "It was kind of a pride thing. And I knew the team needed me to get at least in the top seven."

The Firebird girls placed higher, but the FSHS boys (12th place, 25 points) had a memorable day as well, highlighted by Austin Hoag winning state in the high jump.
Hoag didn't think 6-feet, 4-inches would be enough to win state. But Hoag, who coach Steve Heffernan lauds for his consistency, didn't miss on any of his first five jumps — 5-8, 5-10, 6-0, 6-2 and 6-4 — and watched as the misses began to pile up for his competitors.
And when top-seeded Wichita Southeast's Dexter Hayes had two woeful jumps at 6-0 and 6-2, the smile on Hoag's face began to grow.

"It definitely gave me confidence because I knew it would come down to the misses since we were all in the same spot," Hoag said.
Hoag and Blue Valley Northwest's Jonny Giess and Olathe South's Kendal Harland all had three attempts to clear 6-6 in the finals — a height Harland had cleared earlier this year.
Both Giess and Harland missed each of their first three attempts, and Hoag missed his first two. Though he readied for his final jump knowing he had won, Hoag still wanted to top his personal best.
Hoag couldn't add to his high school record, but called it the best miss of his career.
"It's great," Hoag said. "I wasn't expecting this at all."

The boys 4x800 relay team was hoping for a win to send out seniors Preston Newsome and Logan Sloan, but settled for second — despite running a season-best time of 8:01.07.
After a blazing 800 on the first leg by Stan Skwarlo — who took fifth in the 800 as an individual at 2:00.19 — Sloan and Newsome put the Firebirds in good position for Kain Anderson.
Anderson furiously brought himself into first place heading into the final 200 meters, running stride-for-stride with Shawnee Mission Northwest's Aaron Thornburg.
Thornburg, a foe Anderson said he has been trying to solve for the past two-plus seasons, had just enough burst to edge Anderson by less than half a second.
Anderson also took seventh in the 1,600 (4:27.92), and Newsome took 10th (4:32.03).
"He's got a really good kick," Anderson said. "I tried my best. I've always thought I have a really good kick. It was tough to come so close."
"I'm really proud of all four of us," Anderson added. "I'm happy. I'm really happy. It was a good race."
Copyright 2018 The Lawrence Journal-World. All rights reserved. This material may not be published, broadcast, rewritten or redistributed. We strive to uphold our values for every story published.