Photo Gallery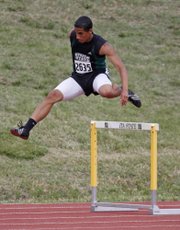 2011 6A state track and field
Wichita — Before Free State High's Alexa Harmon-Thomas could get a chance to sit down and catch her breath, the freshman sensation was clambering atop the podium to accept what might be the first of many state championships.
With leap after graceful leap over the bar, Harmon-Thomas captured Class 6A gold in the high jump on Friday at Wichita State University's Cessna Stadium after clearing 5 feet, 6 inches.
"It feels great," Harmon-Thomas said. "I feel so relieved. I was pretty nervous coming into it."
It was a much-deserved break for Harmon-Thomas, who had relatively no rest while scrambling between three events on Friday.
After running the 100 hurdles in a blistering 14.28 — the second-best time in the field, which has her seeded third in today's finals — she quickly had to make her way to the high jump and change shoes.
After setting one of the top marks in the high jump, she again had to change shoes to run the prelims of the 300 hurdles.
Even immediately following a number of jumps, Harmon-Thomas made it look easy in the 300 as she galloped to a first-place finish at 45.48, which has her seeded first for today's finals.
Then it was back to the high jump, where she said she had just enough left to be the lone jumper to clear the bar at 5-6.
No sweat.
"It was crazy," Harmon-Thomas said. "I tried not to stress out. I tried to relax. The girl I was (in the same situation as, Olathe South's Erin Murphy) was really funny so she helped me get through that."
Harmon-Thomas even tried to match her personal best, 5-71⁄4, which she simply didn't have the energy for at the end of a strenuous few hours.
"I just wanted to try," said Harmon-Thomas, who will compete in the long jump and 100 hurdles finals at 9:45 a.m. today, then the 300 hurdles finals at 4:35 p.m. "It would have bettered my school record. Coach (Steve Heffernan) said, 'Just try, and if you don't feel great you can just stop.'"
Harmon-Thomas' stellar day wasn't the only bright spot for the Firebirds.
Senior Hayley Francis battled through leg soreness and made a late push in the 3,200 to secure fourth place at 11:43.19.
Francis said it wasn't quite as nice as her first-place time of 11:37.83 at regionals, but still satisfying.
"The plan was just to settle and build up," Francis said. "And initially if the front of the pack started to break away, the choice was to either chase them down and see what was going to happen or just keep picking (the other runners) off and see how much space I could close."
In the boys' 3,200, Kain Anderson also finished strong to take fifth place at 9:42.27, and Danny Lee took 10th in the 300 hurdles at 42.35.
Freshman Scout Wiebe earned an eighth-place finish in the javelin with a throw of 113-4, a great improvement on her seed distance of 107-8.
Demarco Bobo, the final Firebird competing on Friday, took 14th in the long jump at 19-53⁄4.
With Harmon-Thomas seeded high in her three events today and the two highly seeded 4x800 relay teams remaining, the Firebirds are in good position for a strong state finish.
Copyright 2018 The Lawrence Journal-World. All rights reserved. This material may not be published, broadcast, rewritten or redistributed. We strive to uphold our values for every story published.