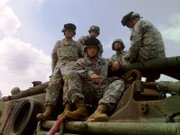 A year away on a Kansas National Guard deployment in the African country of Djibouti didn't excuse Eudora man David Dudley from his matrimonial "honey-do" responsibilities.
Since returning to Kansas earlier this month, Dudley's been hammering away on the list for his wife of 16 years, Traci.
"That was a year's worth of honey-do's," Dudley said. "The wife's still adding to the list."
But Dudley is all smiles when he talks about being back in Kansas and back to work as an operations technician for Black Hills Energy.
"You can't really put words on how you feel," Dudley said. "I actually look forward to coming back to work."
Dudley — a sergeant and five-year member of the National Guard — spent the year guarding and patrolling a United States military base in a country most people couldn't pick out on a map.
Since returning, Dudley said people come up and thank him for his service, but it's something he's a little uncomfortable with.
"I don't think I did anything different than any other guy I served with," he said.
Now he's savoring the simple things he missed in his year overseas, such as having dinner at his favorite restaurant, Red Lobster.
"That was definitely the first stop," he said.
But, most importantly, Dudley's home with his wife and four kids: Bryan, 21; Tiffany, 16; Zachary, 14; and Paige, 7.
"I'm glad to have my official life back," he said.
Copyright 2018 The Lawrence Journal-World. All rights reserved. This material may not be published, broadcast, rewritten or redistributed. We strive to uphold our values for every story published.