Photo Gallery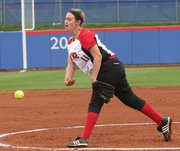 LHS softball vs. Olathe East
Top-seeded Olathe East tried to make Lawrence High's stay at the Class 6A state softball tournament a short one. But Mother Nature made sure the Lions were able to soak up their first trip to state in more than a decade.
After four early errors and a rain-and-lightning delay of nearly three hours, the eighth-seeded Lions fell to the unbeaten Hawks, 11-0 in five innings, in first-round action Friday at Kansas University's Arrocha Ballpark.
Actual game time was clocked at just over an hour. But because of the delay, the matchup spanned nearly four hours, with the first pitch tossed at 10 a.m. and the final out recorded just before 2 p.m.
"That was just annoying," said LHS pitcher Lauren Massey of the rain delay. "It's part of the game, and we've all had to sit through those, but no one likes a rain delay. You just want to get back out there and get going."
The Lions and Hawks played for barely half an hour before the rain came in the bottom of the second inning. Unfortunately for LHS, that was plenty of time to dig a sizable hole. After surrendering a run in the bottom of the first — and turning a sweet 4-6-3 double play to avoid further damage — LHS (14-9) gave up five more runs in the bottom of the second before the break. Two LHS errors helped Olathe East plate the five runs, including one on a throw from home to third that allowed East's Kiki Stokes to trot home after her triple drove in three runs.
"You can't come out and make three errors against a good team, and that's what we did," LHS coach Reenie Stogsdill said. "At the beginning, we gave 'em that big lead. You can't do that against a good team, and you can't do that at the state tournament."
While the Lions' defense struggled to keep O-East off the bases — the Hawks recorded 11 hits in four innings — the LHS hitters could not solve East's pitching. Winning pitcher Jennifer Brooks (four innings, six strikeouts) and reliever Allison Stewart (one inning, two strikeouts) combined to no-hit the Lions, who had just two batters reach base in five innings. Junior Mallory Reynolds walked in the third, and junior third baseman Lauren Byrn led off the fourth by reaching on an error by the Olathe East third baseman. Byrn advanced to third before the inning was over, but was stranded.
"They have really good pitching," Stogsdill said. "I think you have to jump on them early, and we didn't do that. Nothing went right today. Even the weather."
During the delay, the Lions went back to LHS to get out of the rain and gather their thoughts. They were just one batter away from heading into the wait down 2-0 instead of 6-0.
"The difference between 2-0 and 6-0 in fastpitch softball is huge," Stogsdill said. "Especially against a good team. It just doesn't happen to come back from down that many runs."
Although the sting of Friday's loss made it difficult for the Lions to reflect on what they accomplished this season, Stogsdill took time out to tip her cap one final time in honor of seniors Massey, Kristen Bell, Kasey Waite, Emily Peterson and Rachel Kelly.
"I'm disappointed for the kids because they're such a good group, and they work so hard," she said. "They lost to a great team, and I hope they can be proud of the season they had."
Massey indicated that was exactly how she felt.
"That was our goal," she said. "To make it to state. We got where we wanted to, but we didn't finish how we wanted to."
Copyright 2018 The Lawrence Journal-World. All rights reserved. This material may not be published, broadcast, rewritten or redistributed. We strive to uphold our values for every story published.