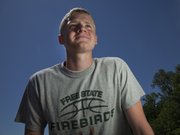 As a member of Free State High's basketball team, Austin Hoag was merely one of a handful of Firebirds with enough hops to dunk.
Out on the track, though, Hoag is on his own when it comes to the leaping ability required to excel in the high jump.
Hoag — who will jump at 8 a.m. Saturday at WSU's Cessna Stadium — is seeded second heading into the state track and field championships with a season-best and school-record jump of 6 feet, 5 inches.
The senior heads to state one inch shy of Wichita Southeast's Dexter Hayes mark of 6 feet, 6 inches.
"I don't think there's much difference (from basketball)," Hoag said. "Except you're jumping off of one foot instead of two."
After taking seventh in the high jump at state last year, Hoag set the school record at Free State's opening track meet this season and has been topping his own mark in nearly every meet since.
Aside from owning the FSHS record, Hoag admitted feeling a bit of pride knowing that also means he has out-leaped his older brother, Chase, who was also a standout in the high jump.
FSHS coach Steve Heffernan said the biggest difference for Hoag — who has been competing in the high jump since he was in seventh grade — has been his persistence and commitment to perfecting his technique.
"We've had many kids with great vertical jumps," Heffernan said. "(Here) it's about who can sprint on a curve and have the courage go for the big jump at the last seconds.
"That's what separates great high jumpers from just guys who can jump."
Copyright 2017 The Lawrence Journal-World. All rights reserved. This material may not be published, broadcast, rewritten or redistributed. We strive to uphold our values for every story published.