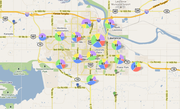 A set of interactive Google maps providing a breakdown of crime in Lawrence in 2011.
Douglas County Sheriff's officers arrested a 26-year-old Lawrence man Thursday afternoon as a suspect in connection with a fight that occurred at Wells Overlook Park on County Road 458 south of Lawrence.
Sgt. Steve Lewis, a sheriff's spokesman, said no one was hospitalized in connection with the incident reported at 12:45 p.m. Thursday. The suspect was arrested on an aggravated battery charge. The Journal-World generally does not identify suspects unless they are formally charged.
Copyright 2018 The Lawrence Journal-World. All rights reserved. This material may not be published, broadcast, rewritten or redistributed. We strive to uphold our values for every story published.