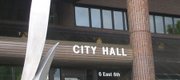 Subscribe to the email edition of Town Talk and we'll deliver you the latest city news and notes every weekday at noon.
News and notes from around town:
• We're in the heart of youth league baseball season right now, which of course means that juice box sales are up (the snacks are very important to my son's team), the blood pressure of some fathers are up, and the chances of rain at about 6 p.m. on any given evening are through the roof.
Or at least it seems that way. Rainouts and Little League baseball go hand in hand. But it appears there is a project in the works to give area ballplayers a place to at least practice when the weather won't cooperate. Plans have been filed at the Lawrence-Douglas County Planning Department for a new indoor baseball facility at 1898 E. 56 Road — which is off U.S. Highway 40 west of Big Springs near the Shawnee County line. You might remember the location as the former home of Serenata Farms. The site includes a large indoor horse arena. After the horse business moved on, plans called for converting the arena into a wedding and banquet facility. But now plans have shifted to the indoor sports facility idea. The site also is the base of operations for PLS Landscaping, and one of its executives — Chad Price — is putting together the indoor sporting facility plan. I haven't been able to catch up with Price yet, so I don't know if he plans on making the facility available to other types of sports — like soccer — perhaps. When I hear more, I'll let you know.
• Updating you on a story we previously reported on, the downtown boutique Prairie Pond Studio has found a new downtown location for its shop. The store, currently at 809 Mass., is leaving that spot to make way for For-tu-ity, a Country Club Plaza boutique that is making its way to Downtown Lawrence. That set Prairie Pond Studio in search of new space. Owner April Del Campo tells me that she has now found it. The store plans to move into the space being vacated by Bauhaus Fashion at 11 W. Ninth St. The space is just west of downtown anchor Weaver's Department Store. Bauhaus, as we previously reported, is going out of business. No word yet on when Prairie Pond is set to officially move into the new space, but it currently is conducting a moving sale at its Mass. Street location.
• As we reported in today's edition of the Journal-World, Westar Energy is undertaking some major repairs to try to prevent power outages in the downtown area. Well, the company also passed along some information about how the utility's much talked-about smart meter program also should help cut down on the chances of homes losing power. As part of the SmartStar program, the company is installing a device called "mid-circuit reclosers." I'm not a technical expert in this field (read that to mean that I have touched the wrong wire at the wrong time before), but it sounds like the devices automatically switch a home's power supply from one substation that may be having a problem to another substation that is not. The company has installed 31 of the reclosers thus far, and more are on the way. According to Westar, reclosers protected about 400 customers from losing power during a May 15 outage that was caused by equipment failure at the downtown substation near Sixth and Vermont streets. But about 5,000 customers did lose power that day. Hey, they're smart meters, not genius meters. At least not yet.
Copyright 2018 The Lawrence Journal-World. All rights reserved. This material may not be published, broadcast, rewritten or redistributed. We strive to uphold our values for every story published.