Photo Gallery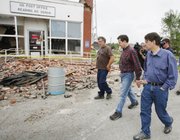 Tornado in Reading causes major damage
A tornado swept through Reading Saturday night, killing one person and destroying at least 20 homes, as severe thunderstorms pelted the region with hail that some residents said was the size of baseballs, authorities said early Sunday. Reading is about 67 miles southwest of Lawrence.
Budget problems are forcing Kansas to delay paying $2.3 million to electric cooperatives that suffered disaster damage, the second consecutive year the state has pushed back such payments into the next fiscal year due to a revenue slump.
Legislators adjourned this year's session May 6 after completing work on a $14 billion budget, of which $6 billion is financed through state tax revenues. However, funds to pay the bills on claims filed with the state for work already completed by rural electric cooperatives were omitted.
Officials say the delayed payments are part of the $27 million representing Kansas' match for 12 federally declared disasters.
The shortfall comes as Kansas recovers from severe weather, including a tornado that killed one and heavily damaged the small town of Reading.
Senate Majority Leader Jay Emler said legislators have discussed creating a dedicated revenue source to prevent shortfalls and delays to payments in future years.
"We need to find a way that we can set up a fund so we have some money to be in there. It would only be seed money because we have disasters every year," said Emler, a Lindsborg Republican.
Federal funds cover 75 percent of the disaster, local entities, including municipalities and nongovernment entities, pay 15 percent, with the state covering the final 10 percent.
Stuart Lowry, executive vice president of the Kansas Electric Cooperatives, Inc., said the cooperatives were using other financial options, including reserve funds and borrowing money.
"We're caught in the same situation that a lot of folks are caught in that there's not enough money to go around," Lowry said. "It's not ideal."
Maj. Gen. Lee Tafanelli, state adjutant general and director of emergency management, said Kansas has been fortunate that there haven't been large-scale disasters this year to require additional resources. He has spoken with Gov. Sam Brownback and legislators about creating a future funding source.
Tafanelli, a former House member, said it would be helpful to have a fund that would be capped at $25 million that could be used to make the state match. When the fund is full the tax or fee would lapse until reserves drop.
"There's no perfect idea. The trick is how do you get a fund where legislators don't tap it (for other government bills) in tough times," Tafanelli said.
The unfinished disaster declarations include the May 2007 Greensburg tornado. Many of the disasters are related to winter storms and spring flooding in 2009 and 2010.
In the cases of winter storms, ice and snow caused the downing of power lines and infrastructure for rural electric cooperatives. Much of their costs are for replacing those transmission lines and upgrading the infrastructure to withstand future storms.
Lowry said electric cooperatives take advantage of spring and summer weather to rebuild power systems, including transmission lines and utility poles.
There's still more work to be done. It's a multiyear process," he said. "Right after the storm you patch things up to restore service. Some of the facilities are badly damaged and have to be replaced."
The process for declaring a disaster and beginning the flow of assistance comes from the governor, who makes the formal request from the federal government. An assessment is conducted to determine the extent of damages and what would qualify for repayment.
On average, the state makes about $7 million in disaster payments each year for previous storms. Officials say Kansas is one of those states that is prone to disasters, located in a region that is hit by severe winter storms, flooding and tornadoes. It is common for Kansas to experience one or more of these storms in the same day or week.
To make the payments, the state will have to convene the state finance council, which includes Brownback, legislative leaders and heads of the House and Senate budget committees. The council has the authority to allocate funds when the Legislature isn't in session. Brownback is expected to sign the 2012 budget, which takes effect July 1, in the coming days.
Emler said one idea for creating a disaster fund would be to add a nickel to the fee charged on telecommunication services to support the statewide 911 system. The extra charge would generate between $2 million and $2.5 million annually.
"At least we would get something in, and people would know that it's going to the disasters that we have had and would have," he said.
An alternative would be for the state to say that the entire 25 percent in matching funds would have to come from local units of government and nonprofits eligible for FEMA assistance. Emler said that would alleviate the problems with shortfalls in state matching funds, but it is a significant change in state policy.
"If we don't come up with the money, it all drops down to the locals," he said.
Tafanelli said other states, such as those prone to hurricanes, put a fee on insurance premiums to cover disaster payments and not use general tax dollars.
"We have enough disasters in Kansas that we should really address establishing a fund we can rely on without going to the Legislature," he said.
Copyright 2017 The Associated Press. All rights reserved. This material may not be published, broadcast, rewritten or redistributed. We strive to uphold our values for every story published.