Coming up
Stay tuned later in the week for a Free State track feature as the team prepares for the Class 6A state meet.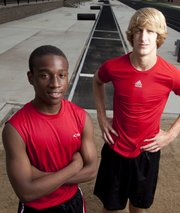 As they ready for their turn down the runway, it's easy for a triple jumper to stand out.
They wait alone for a few moments before sprinting to the first block, where they make their first of three explosive strides before crashing into the sand after the third.
Yet, for as much a front-and-center event as the triple jump can be, Lawrence High leapers Austin Flory and Steven Hill, by all accounts, came out of nowhere.
"They still surprise me on a daily basis," LHS jump coach Brandon Dye said.
Flory and Hill will both be competing at the Class 6A state meet this weekend in Wichita.
Dye made Flory, a long and lean sprinter, for a good jumper right away, but was wowed by leaping ability shown by the shorter Hill.
Flory, a senior who's been competing in the triple jump since his freshman year, impressed coach Jack Hood after a stellar performance at state last year.
"He's sitting seeded (13th) at state, but he hits a monster jump (Flory's then-personal best 43 feet) to put him into seventh place," Hood said.
A workout-laden offseason and a switch to jumping off of his right foot has Hill, a junior in his second year competing in the triple jump, among Lawrence's top individual competitors.
"Every meet, he just got better," Hood said. "Every meet. He went from 39 (feet) to 40, to 41, to 42."
The differences between Flory and Hill, Hood suggested, are part of what makes them such a unique and fun pair to be around.
Hood likened the talkative, engaging Hill to an "energizer bunny," while calling the more reserved, laid-back Flory a "California kid."
"They're really good rooting for each other and supporting each other," Hood said. "Obviously it helps to train with someone who's almost as good as you, because it pushes them every day. You always want to be a little better because you don't want to lose your teammate."
Added Hill: "I'm following in Flory's footsteps. I'm always trying to beat him."
What may seem like a quick rise for Flory and Hill has been propelled by a relentless desire to improve.
"That's really the secret to their success," Dye said. "They work their butts off."
It's hasn't been hard work alone. As Hood put it, you can be as fast as you want, and jump higher than anyone, but the triple jump is all technique.
For all things technique related, Hood differs to and praises Dye, who ran track at Coffeyville Community College and briefly competed in the triple jump as a sophomore in high school.
"It's a little more fun to watch them do it," Dye said with a laugh. "They're much better."
Like in the long jump, natural speed and leaping ability are must haves. But there's only one powerful leap required in the long jump. In the triple jump, each of the three phases shares equal importance.
If the first jump — the hop — is too high, it's difficult to transfer forward momentum into the next two. In the second phase — the bound — it's important to keep the knee high to continue on, and not roll over the lead leg too early heading into the final leap into the sand.
"All three just have to be perfect, start to finish, to have a really big, really good jump," Dye said.
"It's a lot more technical than it seems," Dye added. "It looks like a hop, skip and a jump, but a lot more goes into it."
And that's without even mentioning good balance, timing, and strong knees, which swell up anyway from the strain, among other important aspects of the event.
"It's kind of like layups (in basketball)," Hill said, when asked which other sports have helped him in the triple jump. "Jumping off one foot."
"For me it's football," said Flory, who also runs on the 4x100 and 4x400 relay teams. "Squats in the weight room have really helped strengthen my legs."
After a strong season — most recently highlighted by Flory's first-place finish (43-05.25) and Hill's third-place finish (42-03.25) at regionals at Free State High last weekend — the once unlikely tandem now aims for a strong showing at the track and field state championships.
State begins at 9 a.m. Friday at Wichita State University's Cessna Stadium, though Flory and Hill will wait until 11:30 a.m. Saturday to compete, when they'll each have three jumps to make the finals.
Flory, seeded eighth, hopes for a top three finish, while Hill, seeded 15th, is looking to reach 43 feet for the first time.
One thing's for sure — they won't be surprising anyone this time around.
Copyright 2018 The Lawrence Journal-World. All rights reserved. This material may not be published, broadcast, rewritten or redistributed. We strive to uphold our values for every story published.