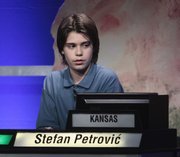 Stefan Petrovic sat there all calm, even relaxed, as Hillary Clinton asked a question about a faraway land, a place she'd visited as the country's top diplomat — and from a perspective the eighth-grader-to-be at South Middle School would someday like to share.
The 13-year-old kid, who plans to follow Clinton's lead and someday serve as U.S. secretary of state, didn't blink.
"I got that one right — something about South Korea," Petrovic said Wednesday, while grabbing lunch at the National Geographic Society in Washington.
It wasn't his only proper response, either.
Petrovic managed to answer enough questions about physical geography and culture and history and economics — you know, geography — to take third place in the National Geographic Bee, a competition that started months ago with more than 5 million students vying for a shot at a $25,000 college scholarship.
Petrovic found himself plenty content with his third-place finish, one step up from fourth place a year ago and enough to secure a $10,000 college scholarship. He'd outlasted seven of the other 10 finalists Wednesday, before bowing out by missing two questions: one about an archipelago in Panama, and another regarding a province of Brazil.
"The questions I got wrong, I simply didn't know. I'm not going to sweat it," he said by phone from the lunch line. "I'm just going to go back to the hotel and figure it out. … I use Google a lot."
Oh, yes, Google: Petrovic sported a Google T-shirt during Tuesday's preliminary rounds, a shout-out to none other than Brian McClendon, vice president for Google Earth and Maps. McClendon, of course, grew up in Lawrence and graduated from Lawrence High School and Kansas University before moving on to become a leader in the Information Age.
McClendon also happened to provide opening remarks to Wednesday's finals, which would be moderated by "Jeopardy!" host Alex Trebek and include Clinton's videotaped questions.
The Google executive enjoyed seeing a future Chesty Lion onstage, with a world of opportunities ahead.
"I think Lawrence is a great place to live, and has great schools, and Stefan is a great example of that," McClendon said. "He is incredibly smart, and he is very, very focused on what he wants to do. He wants to join the State Department and make a career."
He may be on to something. Consider the question Clinton posed, and Petrovic answered.
"At a meeting in the capital city northwest of Busan, I discussed peace and security issues with this country's northern neighbor," Clinton said. "Give the number and name of the capital city northwest of Busan."
Petrovic, looking up at a map on a screen with numbers assigned to corresponding locations, correctly answered, "Six, Seoul."
Afterward, in the lunch line, Petrovic was proud to have aced that part of the test.
"I got that one right," he said, then went on to eat.
Copyright 2017 The Lawrence Journal-World. All rights reserved. This material may not be published, broadcast, rewritten or redistributed. We strive to uphold our values for every story published.