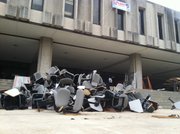 Construction crews ripped out chairs, tore away carpets and pulled down wall coverings inside Wescoe Hall's two large auditoriums just up the concrete stairs from Wescoe Beach.
Now the real work begins.
Crews are busy remodeling both the George P. Waggoner Auditorium and the William P. Albrecht Auditorium, each formerly home to 500 or so padded seats that had been bolted to the floor for decades.
By noon Monday — the day after Commencement — crews had stripped the walls down to their studs and had left the stair-stepped floor as exposed concrete. Chairs and fold-out desktops filled one large roll-off Dumpster outside, while others awaited in a pile.
"The interior finishes in those lecture halls are original to the building," said Jill Jess, a university spokeswoman. "One of the things they are doing is removing those finishes and going into the infrastructure in the walls so they can improve technology in those lecture halls."
The auditorium overhauls are only the beginning of major work going on inside Wescoe, base for the College of Liberal Arts and Sciences and among the busiest buildings on main campus.
At the ground level, The Underground is set for a $475,000 expansion beginning June 1. The work will be financed by student fees to be charged during the next nine years.
The Underground is run by KU's Memorial Unions and includes food and beverage operations: Chick Fil-A, Jump Asian, Pizza Hut and a grill and salad bar. Those won't change, but the project will include relocating the site's convenience store and coffee bar, spreading them out to reduce congestion, especially at lunch.
"They'll move faster and allow us to serve faster," said David Mucci, director of the Memorial Unions. "It solves the problems both in front and in back of the counter."
Customers also will get even more room to sit: 140 seats will be added to the 275 already there thanks to removal of a stairwell.
Like the auditorium work, The Underground's expansion is slated to be finished by the time the fall semester begins — giving new looks to two of the busiest classrooms and some of the most popular dining options on the main campus.
"Now, if we could only do something about the front of it," Mucci said of Wescoe's gray facade, which he acknowledged as having served the campus well despite lacking the attractiveness of the rest of Jayhawk Boulevard. "The concrete isn't warm and embracing.
"Maybe someday."
Copyright 2017 The Lawrence Journal-World. All rights reserved. This material may not be published, broadcast, rewritten or redistributed. We strive to uphold our values for every story published.