Photo Gallery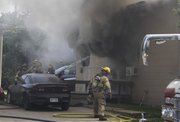 Firefighters respond to blaze near 13th and Kentucky streets
Lawrence Douglas County Fire and Medical investigators said Monday's fire at a house near 13th and Kentucky streets was an accident caused by an extension cord that overheated.
The fire occurred at the one-story house, 303 W. 13th St. around 5:30 p.m. Monday, and it caused an estimated $72,000 in damage, said Division Chief Eve Tolefree. No one was injured.
Jane Blocher, executive director of the Douglas County chapter of the American Red Cross, said the fire displaced three men living there. The Red Cross provided funds for food and clothing for the men, who all have other places to live, Blocher said.
Copyright 2018 The Lawrence Journal-World. All rights reserved. This material may not be published, broadcast, rewritten or redistributed. We strive to uphold our values for every story published.