Photo Gallery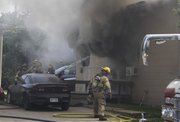 Firefighters respond to blaze near 13th and Kentucky streets
Lawrence-Douglas County Fire Medical crews responded to a structure fire in the 300 block of West 13th Street around 5:30 p.m. Monday.
Responders fought smoke and flames in the single-story residential structure near 13th and Kentucky streets, but no injuries were reported.
The Douglas County chapter of the American Red Cross assisted displaced occupants.
While the cause of the fire is still under investigation, the damage is estimated at around $72,000, according to Fire Medical.
Copyright 2018 The Lawrence Journal-World. All rights reserved. This material may not be published, broadcast, rewritten or redistributed. We strive to uphold our values for every story published.