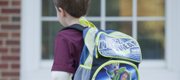 Subscribe to the email edition of First Bell and we'll deliver you the latest local education news and notes every weekday at noon.
A few notes and items regarding education in the area:
Fresh off a capital campaign that generated $900,000 for the school, Bishop Seabury Academy is building momentum for the next one.
And it has a $1 million head start, thanks to an anonymous pledge.
Bishop Seabury, an Episcopal school at 4120 Clinton Parkway, has received a challenge pledge of $1 million. The challenge: The school gets the money if, and only if, it can raise another $1 million to go along with it.
Don Schawang, the school's headmaster, discussed the challenge — to be used for future growth — during Friday's Commencement and Stepping Up ceremony at the school.
Schawang declined to disclose the source of the challenge, other than to describe "them" as being alive and living in Lawrence.
"They are incredibly generous and thoughtful and love the school," Schawang said.
•••
Reconfiguring schools will also mean moving around some walls and making other building changes.
Tonight, members of the Lawrence school board will consider hiring contractors to make upgrades associated with the "Redesigning for Student Success" plan that is moving next year's sixth-grade students into middle schools and moving next year's ninth-grade students into high schools.
Three schools would be getting work done, under bids up for approval during the meeting, which starts at 7 p.m. at district headquarters, 110 McDonald Drive:
• $22,620 to B.A. Green Construction, to install two doors in the food-service area in the cafeteria, a move to improve flow in lines as the school braces for the arrival of an additional 380 students.
• $12,087 to Lytle Construction, to install a wall in what is now the open sixth-grade pod at Broken Arrow School; the wall will allow for the physical separation of grade levels.
• $3,473 to Lytle Construction, to remove a wall between two auxiliary spaces and allow for the space's remodeling, doubling the size of a computer lab.
•••
Plans continue to take shape for a consolidation of adult-education offerings at the soon-to-be-former home of the Lawrence Virtual School.
Sharen Steele, who runs the Lawrence Diploma Completion Program, is slated to start work July 1 as the Lawrence school district's director of adult education service. The job will be at the district's Adult Learning Center, a building at 2145 La. that will include the diploma completion program, the district's Adult Education Program and continue to provide space for classes offered by Johnson County Community College.
Steele is no stranger to the work. She now works as project coordinator for diploma completion program, which has been run for the district on a contract basis out of leased space in The Malls Shopping Center at 23rd and Louisiana streets.
To save money, administrators came up with a plan — endorsed by the board — to bring the program back into the district as a district operation, a move expected to save $215,000 for the coming school year.
Steele also is no stranger to the district payroll. Before going to work for the Lawrence Diploma Completion Program, Steele had retired after 15 years as principal at New York School.
— The First Bell mailbox is always open. Please feel free to send any feedback or ideas to me at mfagan@ljworld.com.
Copyright 2018 The Lawrence Journal-World. All rights reserved. This material may not be published, broadcast, rewritten or redistributed. We strive to uphold our values for every story published.