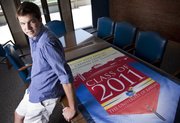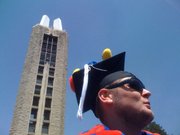 A complete list of 2011 KU graduates. Filter the list alphabetically from A to Z by name and degree.
Mathew Shepard will admit he's probably a little more into metaphors and deep thoughts than most folks.
So, in a way, it's a good thing that the graduating senior who went to high school in the small western Kansas town of Norton was the one who helped design and create the class motto, banner and class gift.
The class gift, in fact, is a display that will showcase the banners in the Kansas Union.
Shepard said he knows that many students in his class have probably never heard of the class motto or know about the banner, but he thinks it will likely have a significance for them later. He knows, because he's talked with alumni who feel that way.
"A lot of students don't care, but I think 20 to 30 years down the road, they'll care about these things," he said.
The motto is "Began with dreams. Created legacies. Continuing the Tradition." The beginning part, Shepard said, is partially a nod to the basketball title the class experienced during their freshman year. And that capital "T" references the unique traditions at KU.
Shepard said he's heard of other universities that sing their alma mater in Latin, so few people know the words, much less the meaning of what they're singing.
He's glad it's not like that at KU.
Clinton Everhart, associate director of admissions for KU, serves as the adviser for the Board of Class Officers, which selects the motto, banner and class gift.
Everhart said Shepard seemed to have a "passion for excellence" in all that he does. That includes the class gift stuff.
"He definitely put a lot of effort and energy into those things," Everhart said.
Growing up, Shepard said, he faced his share of difficulties. He won a scholarship named for Horatio Alger, the rags-to-riches author popular in the 19th century. His mother died when he was 13. He hasn't spoken to his father in two years, and he has had to contribute to raising his two younger sisters in a significant way.
He said he might describe his family growing up as a middle-class family, but that's probably a stretch, he concedes now. Even still, he always knew he'd finish college, even though his parents never did. Maybe, he said, particularly because his parents never did.
"It's never been a goal, it's always been a 'this will happen,'" Shepard said.
No one from his family will watch him carry the banner he helped design down the hill. His little sister is graduating from high school just hours after the KU ceremony, so he encouraged his family to go to that one. It's smaller and more personal, he said, so it just makes sense.
"The people I rely on most are my friends," he said, who will be there en masse.
Limited on cash for school, he applied to only KU and Kansas State, but fell in love with KU, where he said he seemed to click.
Shepard is one of those students who's involved in practically everything — he's done marching band, the glee club, been a leader at Krehbiel Scholarship Hall and even participated in one year of Student Senate (though he didn't particularly fit with that crowd, he remembered), along with much more.
He's paid for school with the help of numerous scholarships, and has received numerous awards, including a chancellor's award that comes with a lifetime membership to the KU Alumni Association.
Shepard wants to go into higher education administration, and so he's a little more plugged in to what's going on in the KU administration than most. He has also spent time working in the provost's office.
So he knows about ongoing efforts to front-load scholarship money. There's a lot of funds available for juniors and seniors and KU, but when he applied to KU and K-State, K-State offered him more upfront money. Shepard turned it down anyway, but he saw the appeal of more funds.
It's stuff like that, he said, that he'd like to help figure out in other places — how to best get students the help they need to succeed. Armed with his bachelor's degrees in economics and environmental studies, he'll be headed to the University of Vermont to get a master's degree, with a Ph.D. likely to follow, he said.
"It's so inspiring to be in a place where knowledge is the goal," he said.
Copyright 2018 The Lawrence Journal-World. All rights reserved. This material may not be published, broadcast, rewritten or redistributed. We strive to uphold our values for every story published.