Photo Gallery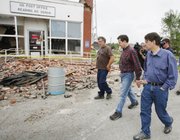 Tornado in Reading causes major damage
A tornado swept through Reading Saturday night, killing one person and destroying at least 20 homes, as severe thunderstorms pelted the region with hail that some residents said was the size of baseballs, authorities said early Sunday. Reading is about 67 miles southwest of Lawrence.
Before mowing his lawn, Neal Ballard always walks through his yard picking up sticks and scraps of debris. On Sunday afternoon, Ballard found a piece of paper that shocked him.
It was a 2007 receipt for 100 pounds of rocks. But that wasn't the startling part.
The receipt was from Reading Rock Inc. and written out to the Osage County maintenance department. And it had landed in a spot on Ballard's yard that is shaded by a canopy of trees.
Ballard's mind immediately jumped to Saturday night's EF-3 tornado that ripped through the small town of Reading, which is about 70 miles southwest of Lawrence. The tornado killed one man, destroyed 20 homes and damaged 200 other buildings.
"What would the chances be of living in Lawrence and walking out in your backyard and finding this?" Ballard asked.
Actually it can be rather typical, National Weather Service meteorologist Shawn Byrne said. Ballard's finding was not the only report of Reading debris in Lawrence. Debris was also found near the 3500 block of Bob Billings Parkway.
"After a significant tornado, to find that kind of debris raining down in locations 30 to 40 miles away is fairly common," Byrne said. "They can be caught in the updraft and stay suspended until the updraft no longer supports them."
Ballard, who lives in the 1900 block of Learnard Avenue, was fully aware of Saturday's tornado. In fact, throughout the evening he was on the phone with his sister, who lives in nearby Lyndon and was seeking shelter in her bathtub from the two rounds of tornadoes that swept through the region.
He was just surprised to see a piece of the storm's destruction in his backyard.
"You hear of debris flying great distances. And this is evidence," Ballard said.
Copyright 2018 The Lawrence Journal-World. All rights reserved. This material may not be published, broadcast, rewritten or redistributed. We strive to uphold our values for every story published.