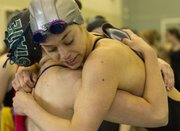 Topeka — During the last three years, Free State High senior swimmers Reilly Moore and Kara Mishler had gotten used to climbing up the medal stand and having some state-tournament hardware placed in their hands at the end of the last meet of the season.
In 2008, FSHS finished second. In 2009, Free State won a state title. And, last season, Moore and Mishler helped the Firebirds take third.
Saturday, at the final swim meet of their high school careers, tears took the place of a trophy and Moore and Mishler helped Free State place eighth at the state meet at Topeka's Capitol Federal Natatorium at Hummer Sports Complex. Despite the lower-than-normal finish, Saturday's finale registered right up there with all the others.
"I think this is the most memorable one, just because of the emotions," Mishler said. "This is the first time I felt like I was swimming for something."
Added Moore: "This was a very different experience than last year and the year before. But it's been an amazing ride, and I feel so lucky to have been a part of a state championship team and four great years."
Moore was the highest city placer at Saturday's Class 6A finals. She placed second in the 100 breaststroke (1:07.89) and literally had to drag herself out of the pool after she was finished. Beyond that, Moore finished fifth in the 50 free (25.01) and helped two FSHS relay teams place sixth (200 medley, 1:56.25) and seventh (400 free, 3:55.42). Her all-around effort earned her a spot on the first-team all-state squad, announced at the end of the meet.
"I'm so happy," Moore said. "I don't even know how I got through it. I had an out-of-body experience behind the blocks before each race. But the second you hit the water, you realize it's just you and everything else goes away."
Mishler was equally as impressive in her swan song. She turned in a career-best, fifth-place performance in the 100 butterfly (59.96), placed eighth in the 200 IM (2:21.82), joined Moore on the two top-eight relay teams — Hana Arch, Morgan Miller and Kate McCurdy added their kicks to the relays — and earned second-team all-state honors for the first time in her career.
As for those tears, they were present throughout the day. Swim a race, cry and hug. Swim another, more tears and hugs.
"I wasn't gonna cry, but this one made me," said Moore, pointing to Mishler. "It was just really emotional because it was our last meet ever."
Mishler, who delivered the moment of the meet in the form of a tearful embrace with her father following the 100 butterfly, divided her tears into two categories.
"I think they were mostly happy tears," she said. "But I've been telling people that the left eye was for sad tears and the right eye was for happy tears."
The only other Firebirds to hit the water on Saturday were Rosemary Black, Caroline King and Katie Kimbrough, who teamed with McCurdy to place 15th in the 200 freestyle relay.
They represent the future of Free State swimming now, as Moore and Mishler, the last remaining members of the 2009 state championship squad, are off to college. Neither will swim competitively at their respective schools, but both plan to continue their passion through club teams. Moore will attend Denver University, where she'll study to become an event planner and travel the world. Mishler will attend the University of Arkansas, where she'll focus on physical therapy and kinesiology.
Though they shed plenty of tears for their final high school swim meet, both are looking forward to one thing in the immediate future.
"This is the first summer I'll have to myself," Mishler said. "No more getting up at 6:30 a.m. every day."
Copyright 2018 The Lawrence Journal-World. All rights reserved. This material may not be published, broadcast, rewritten or redistributed. We strive to uphold our values for every story published.