Photo Gallery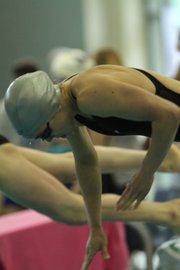 2011 6A girls state swimming
Topeka — Free State High's swim team needed to have a big showing in the preliminary heats of the Class 6A state championships, and boy did it deliver.
The Firebirds swam personal bests in nearly every event they competed in, and of the events in which they had a shot to qualify for finals, FSHS went a perfect 6-for-6 on Friday at Hummer Sports Complex.
Though the top 16 qualifiers all count toward team scores, only the top eight qualifiers can medal in the championship heat, making Friday's preliminary round of the utmost importance.
After spending the entire week resting, tapering physically and preparing mentally, the Firebirds were ready, and they looked the part Friday.
"It all contributes to this end product," senior Kara Mishler said.
"This whole week I've been on edge," senior Reilly Moore added. "The other morning I woke up really early, and I couldn't sleep because I was thinking about my races."
As they've done for the past three years, Mishler and Moore showed up in a big way at state, leading FSHS to what was an outstanding first day.
In the first event of the afternoon, Moore and Mishler teamed with Hana Arch and Morgan Miller to qualify the 200 medley relay team for finals after a sixth-place qualifying finish at 1:55.56 — nearly five seconds better than their previous best this season.
And that was only the beginning.
Mishler qualified for the finals in her two individual events, qualifying eighth in the 200 IM (2:18.03) and third in the 100 fly (59.65).
"I had so much excitement and adrenaline," Mishler said. "(The 100 fly) should've hurt way more than it did, but you just don't think about it."
Moore also reached the championship heat in each of her two individual events, qualifying sixth in the 50 free (25.18) and second in the 100 breaststroke after swimming a season-best 1:08.08.
And Moore, still looking to top her personal best in the 100 breaststroke (1:06.29), wants to swim even faster today.
"On a couple of my turns, I just miscounted my strokes, so I'll have to fix that for (today)," Moore said.
Mishler, Miller, Moore and Kate McCurdy dropped almost two seconds to qualify seventh in the 400 free relay (3:54.83), also good for a spot in today's finals.
Free State's Annie Soderberg, the lone city diver competing, placed ninth in the dive finals with a cumulative score of 321.10.
Annie Odrowski and Miranda Rohn were the top standouts for Lawrence High, as they each qualified for the championship heat in one individual event.
Odrowski qualified fifth in the 500 free (5:29.92), and Rohn qualified eighth in the 100 back (1:01.84).
Both Lions also reached the consolation finals in one other event each; Odrowski qualified 14th in the 100 back (1:04.28), and Rohn qualified 13th in the 200 IM (2:21.60).
"I feel OK about (my time)," said Odrowski, who barely had enough time to rest after the 500. "I definitely wish the 100 back was before the 500, or at least I wish I had a few more minutes to rest between them."
Two of Lawrence's relay teams — Rachel Buchner, Mallory Neet, Odrowski and Rohn — also reached the consolation finals: the 200 medley team qualified 12th at 2:01.32, and the 400 free team qualified 15th at 4:07.06.
McCurdy qualified 16th in the 200 free (2:08.46) and 500 free (5:48.36), and Miller qualified 13th in the 500 free (5:45.80) to reach the consolation finals for the Firebirds
Free State's 200 free relay team (Rosemary Black, Caroline King, Katie Kimbrough, Kate McCurdy) also reached the consolation finals with a 16th-place finish at 1:51.26.
Copyright 2018 The Lawrence Journal-World. All rights reserved. This material may not be published, broadcast, rewritten or redistributed. We strive to uphold our values for every story published.