Photo Gallery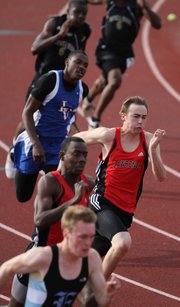 2011 6A regional track
For some athletes from Lawrence and Free State high schools, Friday's regional track meet at FSHS marked the end of their track careers.
But for the ones who were able to place in the top four in their events Friday, the fun is just beginning.
Fourteen athletes from Free State and 11 from Lawrence High qualified for the state meet, which will be held next weekend at Wichita State University.
The Free State girls team finished in third out of eight teams, and the Lawrence High girls team finished in sixth. The Firebirds' boys team finished fifth, and the Lions boys team finished seventh.
FSHS coach Steve Heffernan said he hoped his teams could place higher in the team standings but was pleased with the individual results.
"I really do think there was a big homefield advantage," Heffernan said.
FSHS freshman Alexa Harmon-Thomas cleared 5 feet, 71⁄2 inches in the high jump, setting her fourth school record of the season. Free State senior Austin Hoag also set a school record in the high jump, clearing 6-5.
Harmon-Thomas also won the 100-meter hurdles (14.64 seconds), the 300-meter hurdles (45.45) and the long jump (17-91⁄2).
She has changed her 300 hurdle technique recently. Instead of starting slowly and trying to finish the race strong, Harmon-Thomas is focusing on starting fast and holding on until the finish line.
"There's a lot of different ways to run it, but I think I found my way now," Harmon-Thomas said.
Lawrence High's Blake Hocking is also working on his technique in the shot put and discus.
He won the shot put with throw of 58-10 1/2 inches, but Shawnee Mission East's Brian Williamson held the lead until Hocking beat him with his final throw.
Hocking will try to correct his smallest issues — dipping his shoulder, not using his legs enough — in preparation for the state meet.
"I'm just pumped up," Hocking said. "I've been there before. I know what to expect, and I'm ready to deliver."
LHS coach Jack Hood also said he was happy with his teams' performances at the meet. Numerous Lions set personal records, even though most didn't qualify for state.
"As a coach, it's bittersweet," Hood said.
The girls state qualifiers for Free State were Harmon-Thomas, Lynn Robinson (800, 1600, 4x800), Bailey Sullivan (800, 4x800), Hayley Francis (3200, 4x800), Rachel Schaffer (4x800), Brie Mingus (shot put) and Scout Wiebe (javelin).
Qualifying from the Lawrence High girls team were TaMiya Green (100 hurdles, 300 hurdles, 4x400), Alexis Schiebler (4x400, 4x800), Emily Davidson (4x400, 4x800), Kelsey Broadwell (4x400), Michala Ruder (4x800) and Payton Covert (4x800).
From the boys team, Free State will send Hoag, Stan Skwarlo (800, 4x800), Kain Anderson (1600, 3200, 4x800), Danny Lee (300 hurdles), Preston Newsome (4x800), Logan Sloan (4x800) and Demarco Bobo (long jump).
Representing the Lawrence High boys team will be Hocking, Ari Pelli-Nilsen (3200), Scott Dunlap (high jump), Austin Flory (triple jump) and Steven Hill (triple jump).
The state meet will be next Friday and Saturday at Wichita State University's Cessna Stadium.
Copyright 2018 The Lawrence Journal-World. All rights reserved. This material may not be published, broadcast, rewritten or redistributed. We strive to uphold our values for every story published.