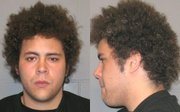 A Douglas County jury Friday convicted a 20-year-old Lawrence man of intentional aggravated battery of a law enforcement officer for punching and injuring a Lawrence police officer in February.
Prosecutors and District Judge Kay Huff said they expect Louis Galloway Jr. to spend some time in prison for the felony conviction. Huff revoked Galloway's bond after the verdict was read at 12:15 p.m. Friday.
"Our law enforcement officers put their lives on the line every single day to ensure our safety," District Attorney Charles Branson said. "When someone is not only disrespectful to them but goes so far as to injure them, I believe it demonstrates how truly dangerous that individual is to our entire community."
Galloway was convicted of punching and injuring Officer Jonathon Evinger in a Feb. 26 confrontation near 26th and Iowa streets. According to testimony at the two-day trial, Evinger and another officer, Stephen Ramsdell, were trying to arrest Galloway for driving on a suspended license. Galloway disputed that he was driving.
Evinger has not been able to return to regular patrol duty because of the injury affecting his vision.
Jurors didn't convict Galloway of the most severe count of intentional aggravated battery that prosecutors sought. Instead of finding that Galloway caused great bodily harm to Evinger, they reached a verdict that found his actions could have resulted in great bodily harm to the officer.
Both charges carry presumptive prison sentences, although Galloway likely faces about two years less than he could have been eligible to receive. Now he faces a sentence in a range of 38 months to 172 months in prison, depending on his criminal history.
"Regardless, he's going to be held accountable for what he did to Officer Evinger," said David Melton, a chief assistant district attorney who prosecuted the case.
Galloway was also convicted of three misdemeanor charges of assault and battery of Ramsdell and obstruction.
Jurors deliberated for about one hour Thursday evening and three hours Friday before reaching a verdict.
Melton on Thursday played a grainy and dark video recorded from Ramsdell's dashboard camera in which an officer identified as Evinger can be seen falling down briefly and then later getting up to help Ramsdell try to subdue Galloway and his brother, whom Evinger sprayed with pepper spray.
Later in the video Evinger falls to the ground again while trying to lean against Ramsdell's patrol car. Doctors said Evinger suffered a concussion as well.
Before he was injured, an altercation ensued, and at one point Galloway knocked Evinger to the ground with a punch to his left eye, prosecutors said.
Jurors watched the video at least twice in the courtroom Friday during deliberations.
Defense attorney Michael Clarke argued to jurors there was not enough evidence for them to determine that Galloway intentionally struck Evinger.
Copyright 2018 The Lawrence Journal-World. All rights reserved. This material may not be published, broadcast, rewritten or redistributed. We strive to uphold our values for every story published.