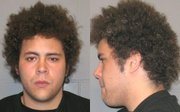 Douglas County prosecutors Monday filed several charges against a 20-year-old Lawrence man who was accused of injuring a Lawrence police officer Saturday morning during a traffic stop.
Prosecutors charged Louis G. Galloway Jr. with one count aggravated battery against an officer, which is a felony. They also filed misdemeanor counts of assault and battery on another officer, plus charges of driving on a suspended license, obstruction, theft and criminal damage to property.
Lawrence police said officers stopped Galloway about 5 a.m. in the 2100 block of West 26th Street, which led to an altercation between officers and the suspect. According to court and police records, the theft and criminal damage charges stem from an allegation Galloway damaged a cooler and stole 14 beer cases from Holiday Inn Lawrence, 200 McDonald Drive.
A judge Monday set Galloway's bond at $75,000. Police said Saturday one officer was taken to Lawrence Memorial Hospital for treatment with injuries that were not life threatening, and Sgt. Matt Sarna, a police spokesman, said the officer was released on Sunday.
Copyright 2018 The Lawrence Journal-World. All rights reserved. This material may not be published, broadcast, rewritten or redistributed. We strive to uphold our values for every story published.