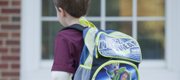 Subscribe to the email edition of First Bell and we'll deliver you the latest local education news and notes every weekday at noon.
A few notes and items regarding education in the area:
When Monica, Maria, Marta and Jose Ignacio Carvajal left their native Costa Rica for the United States, they couldn't speak word of English.
Well, look at them now — or, even better, just listen.
"Now they don't even have an accent," said their father, Jorge Carvajal, whose voice still carries a Spanish cadence from the family's time in Central America. "You can't tell they're not English native speakers."
The siblings — in Lawrence since their father arrived in 2002 to study at Kansas University — all enrolled in the Lawrence school district, and went through the district's English as a Second Language (ESL) program.
Jose Ignacio started at Southwest Junior High School, and next year is headed to graduate school at the University of Texas at Austin.
Twins Maria and Marta started in fifth grade at Hillcrest School, and now are studying at Johnson County Community College.
And Monica? After entering the district as a kindergartner at Hillcrest, she's just now finishing up eighth grade.
"They all went through the same program," said Jorge Carvajal, who graduates this weekend with a doctorate degree in educational psychology and research. "None of them knew any English. The good thing is, they help them on an individual basis. They all had the opportunity to learn on their own, at their own speed.
"They learned by listening. Me? I studied back home, by reading."
The girls had cried and cried after their first day of school, upset that they couldn't speak the language. Now, their father is thankful for the valuable instruction that they've received, and the continued achievements they've been able to pursue.
"The program is wonderful," he said.
•••
Today's your last chance to get your name in the running for at-large spots on the Central and East Lawrence Elementary School Consolidation Working Group, the volunteer group that will be expected to help guide the planned consolidation of the Lawrence school district's elementary schools.
Applications — forms are available on the district's online site, USD497.org — are due by 5 p.m. today. Rick Doll, district superintendent, will be making the appointments to the 27-member group.
Members will come from seven school communities: Cordley, Hillcrest, Kennedy, New York, Pinckney, Sunset Hill and Woodlawn. All but Woodlawn are being considered for consolidation, as the district looks to trim the number of elementary schools from 14 to either 11 or 12 within the next two to three years.
The total doesn't include Wakarusa Valley School, which already is set to close later this month.
The group will be expected to forward its findings to the Lawrence school board in February.
•••
The Lawrence Schools Foundation reports providing $3,100 in grants to three music educators in the Lawrence school district for 2011-12:
• Lysette DeBoard, music teacher at Broken Arrow School, $1,500 for instruments for World Music Drumming ensembles.
"The World Music Drumming curriculum is designed to help students be individually and collectively motivated, build self-confidence, help increase students' abilities to communicate verbally and non-verbally and cooperate with others in their peer group," DeBoard said.
Intermediate students also learn about the history and culture of the music they are playing on percussion instruments, including buffalo drums, bongos, maracas and wood sticks.
• Rachel Dirks, orchestra director at Lawrence High School, $1,200 for chamber music instruction and coaching.
Professional musicians will work with students in chamber ensembles during orchestra class periods, with performance goals for participating in Kansas State High School Activities Association Solo/Small Ensemble Festivals and other events.
"With the added benefit of having a more specialized and personal learning experience, it is my hope that all string students involved in chamber music will show dramatic improvement in technique, music reading and practice discipline," Dirks said.
• Peter Gipson, music teacher at Sunflower School, $400 for a choir library project.
The money will finance acquisition of a varied selection of choral literature for fourth- and fifth-grade students participating in the school's Golden Eagle Choir.
"The overall goal is to start building a choral library of age-appropriate literature that both challenges and engages students to sing to their fullest potential," Gipson said.
— The First Bell mailbox is always open. Please feel free to send any feedback or ideas to me at mfagan@ljworld.com.
Copyright 2018 The Lawrence Journal-World. All rights reserved. This material may not be published, broadcast, rewritten or redistributed. We strive to uphold our values for every story published.