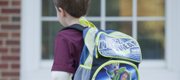 Subscribe to the email edition of First Bell and we'll deliver you the latest local education news and notes every weekday at noon.
A few notes and items regarding education in the area:
Folks interested in helping shape the anticipated consolidation of elementary schools in the Lawrence school district still have time to apply for the effort's working group.
Rick Doll, district superintendent, is accepting applications until 5 p.m. Friday from people interested in being members of the Central and East Lawrence Elementary School Consolidation Working Group. Applications are available online, at USD497.org.
The 27-member group will be responsible for proposing a plan to consolidate the district's 14 remaining elementary schools into a list of 11 or 12 within the next two or three years.
The group will include members representing seven school communities — Cordley, Hillcrest, Kennedy, New York, Pinckney, Sunset Hill and Woodlawn — that either are being considered for consolidation or have been identified as being part of the process. Applicants must come from those school communities.
The group will be expected to forward its findings to the Lawrence school board in February.
•••
School's almost out, and folks working in the annex at Lawrence High School aren't wasting any time moving their files, belongings and other materials out of the building.
No wonder. By the end of next week, the place will be off limits.
"That next Monday, it'll be wrapped in plastic for four weeks," said Frank Harwood, the district's chief operations officer.
And no, the Saran Wrap treatment won't be a senior prank.
Asbestos-abatement crews will be sealing off the building so that they can safely remove floor tiles and other asbestos-containing materials from the annex. Being sure that no asbestos-contaminated air escapes is considered essential for preventing potential health problems.
Once the asbestos is removed, contractors then will be able to get to work remodeling the building so that it can provide classrooms next year for foreign languages and business.
•••
Negotiators for the Lawrence Education Association and the Lawrence school district can agree on at least one thing: Whatever agreement they come up with should be condensed into a "Reader's Digest" version, then copied at district expense and distributed to the more than 900 licensed educators that the "master agreement" will affect.
Negotiators for both groups sat across the table from one another Wednesday evening at district headquarters, discussing a variety of other topics and setting schedules for upcoming meetings.
But a union proposal from an earlier meeting — that the district pay for the printing and distribution of copies — gained traction early in Wednesday's session. The district wants to encourage teachers to read the document, which covers pay, benefits, working conditions and other matters for licensed educators.
A formal "memorandum of understanding" is scheduled to be drafted in the coming weeks, for consideration — and likely approval — by the two negotiating teams June 8.
— The First Bell mailbox is always open. Please feel free to send any feedback or ideas to me at mfagan@ljworld.com.
Copyright 2018 The Lawrence Journal-World. All rights reserved. This material may not be published, broadcast, rewritten or redistributed. We strive to uphold our values for every story published.