Photo Gallery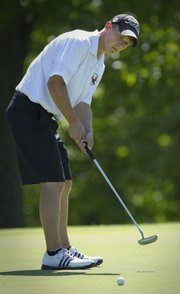 2011 boys 6A regional golf
Class 6A Regional
Monday at St. Andrews
Team scores: 1. Olathe East 305, 2. Olathe Northwest 328, 3. Olathe South 332, 4. Lawrence 335, 5. Free State 336, 6. Topeka High 395, 7. Olathe North 424, 8. Leavenworth 466.
(Players in bold qualified for state)
Lawrence High results: Logan Henrichs 78, Brett Van Blaricum 81, Jesse Ohtake 86, Conner Henrichs 90, Devon Weber 109, Robbie Andrews 109.
Free State results: Alex Green 78, Wilson Hack 80, Colin Becker 87, Jake Sakumura 91, Nick Hay 92, Lee York 94.
Overland Park — After a practice round Friday at St. Andrews Golf Club, members of Lawrence High's boys golf team returned to the bus, where they shared a few thoughts on their first look at the course with coach Dirk Wedd.
"They told me, 'Coach, we can score well here,'" Wedd said.
The Lions did Wedd proud Monday afternoon at the regional golf tournament, qualifying three individuals for the Class 6A state tournament despite missing the cut as a team by a mere three strokes.
Bolstered by Logan Henrichs' 78, Brett Van Blaricum's 80 and Jesse Ohtake's 86, LHS finished fourth as a team at 335, just behind Olathe South's 332. The top three teams qualify for state, scheduled for May 23 in Wichita.
"It was fun to watch these kids grow up over the course of this season," Wedd said. "It's fun in every sport, but especially here because they're so young.
"Coming down to the last foursome, we had a shot, and that's all you can ask for."
Free State was also close to making state, finishing one stroke behind LHS at 336. Olathe East (305) and Olathe Northwest (328) were the other teams to qualify after finishing first and second.
Alex Green (78) and Wilson Hack (80) both qualified individually for the state tournament for the Firebirds. Colin Becker fell just shy after firing an 87.
"It's hard to see some of us barely miss the cut and barely miss it as a team," Green said. "But Wilson and I are going, and that should be fun."
Ohtake, a freshman from Japan, drew the loudest cheers from Lions and Firebirds alike after finding out his 86 was good enough to make it.
Ohtake said his nerves got to him during one stretch — where a topped drive barely made it past the yellow tee box on one hole, and an errant shot found the water on another — but was carried by a front nine that he called "the round of (my) life."
"I'm really happy," Ohtake said. "I don't know if I'm showing it now, but I definitely am. This is unexpected."
Henrichs nearly carded the best round of his season, but missed two four-foot par putts on 17 and 18 and settled for his fifth 78 this year.
"They were so makeable," Henrichs said with a grin.
Henrichs and Green were among four others to card a 78 (7-over) and begin a playoff to determine individual medals, as well as tee times for the state tournament.
Both said the playoff — after which Henrichs finished sixth overall and Green seventh — was just fun, and neither felt any pressure after already knowing they had made state.

"I loved the course," said Green, one of many city golfers playing only his second round at St. Andrews. "You have to hit it straight off the tee, and I feel like I did that today."
Conner Henrichs (90), Devon Weber (109) and Robbie Andrews (109) rounded out the scores for LHS, while Jake Sakumura (91), Nick Hay (92) and Lee York (94) were the other FSHS competitors.
Copyright 2018 The Lawrence Journal-World. All rights reserved. This material may not be published, broadcast, rewritten or redistributed. We strive to uphold our values for every story published.